Home

>

Apps

>

Groups

>
Flipkart Lite - Mobile Version Of Flipkart.com Launched
Question asked by Kaustubh Katdare in #Coffee Room on Nov 9, 2015
Indian eCommerce giant, Flipkart has announced 'Flipkart Lite' - the mobile friendly version of its website. The move is quite interesting because it not only puts and end to the debate and rumours about Flipkart going 'app only' in near future. Flipkart did have a mobile friendly, responsive website which it had killed in favor of mobile app. Flipkart kept
pushing users to download
its mobile app but now, the company says it's found a 'middle path'.
The new mobile version of the flipkart.com website has been designed from scratch to offer 'app like' mobile browsing experience to the users. Piyush Ranjan, the chief technical officer at Flipkart said that the web application will offer 'native experience' without having to download the app.
According to the stats published on ET, Flipkart has about 70 million mobile-only and about 60 million desktop-only users. However a large number of Flipkart users, about 55 million, use both desktop and mobile app versions of Flipkart to browse and transact. While Flipkart's primary motive now is to win more users to its platform, it'd be interesting to see how the new mobile version of website affects the count of native app users.
Flipkart says that it's app offers a new interface that's unique globally; combining speedy experience and ease of browsing. The app takes 'Google like' approach for design. It presents the Flipkart Lite logo at the centre of the screen with a big search engine that asks users "What is your wish today?". At the bottom, users can swipe up to reveal various shopping categories. Interestingly, Flipkart shows 'Install this web app to your phone' message which pins the app on to the home-screen.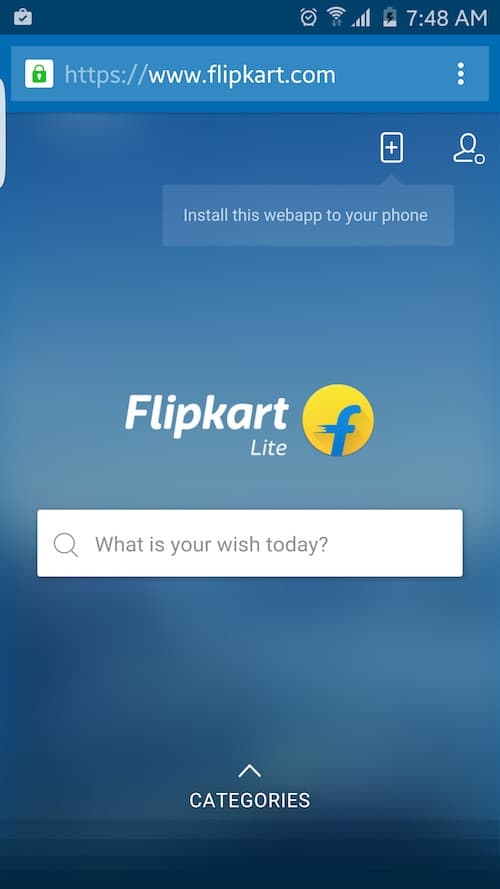 ​
Flipkart says that in order to experience the new app, users will have to access flipkart.com using latest Chrome or Opera browser on their mobile. Flipkart's engineers have collaborated with Googlers to design the app. The app design takes a different approach from traditional way of toning down the desktop version. Flipkart engineers were focused on offering the native app-like experience through its mobile-friendly web app.
One of the biggest advantage the web-app offers over the native mobile app is that it does not require the users to download update every time there's something new. Flipkart might have acknowledge the problem that most of the budget friendly phones used in India do not have enough storage space and therefore people tend to uninstall app that consume space.
Flipkart's move may lead to several startups to rethink their 'app only' strategy; which was initiated by Flipkart owned
Myntra
. Myntra had found out that since 90% of its converts are on mobile device and hence it shut down its desktop website. Flipkart must have seen that the app only approach isn't working for Myntra and have decided that a responsive website is much better bid.
Video Demo:
Do give Flipkart Lite a try and share your experience. We wonder whether Flipkart will continue to push users to download the native mobile app by hosting 'app only' discounts and special offers.
Source:
ET
Posted in:
#Coffee Room
I think this post calls for some thought sharing. Let's face it - your browser is an app! If you already have one app - that does almost everything. I've been hearing that the modern browsers are going to support push notifications; which is one of the top advantages of native app. I personally find it very frustrating that apps keep updating every few days.