Facebook Revamps The Way It Chooses Trending Topics
In the beginning of May, Facebook was hit with allegations that it asked its news curators to suppress conservative news from becoming trending topics in the US. Trending topics which appear on the right hand side of your news feed on Facebook are chosen by human input in association with artificial intelligence. The human input consists of reviewers who constantly shift through the information generated by a thousand news websites to choose which topics are supposedly trending in the news. A few days back former Facebook news reviewers came out to the media stating that they
routinely suppressed
news stories of interest to conservative readers from its users and promoted progressive ones.

​
In light of these allegations the team from Facebook conducted an internal investigation and came up with findings that were put up in
a letter
to US Senator John Thune who questioned Facebook's alleged practices of suppressing news. The letter talks about the investigation that Facebook undertook as soon as the allegations were brought into light. The investigative team from talked with everyone working in the trending topics department to see if the product was acting against its company's policies. They found no evidence of political bias in trending topics. They even conducted a data analysis that showed that both conservative and liberal topics were being picked on an equal basis.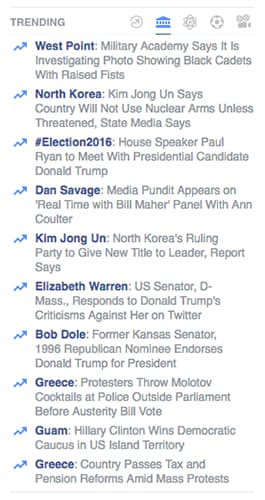 ​
Even though Facebook was sure that its method of choosing topics for trending topics was working well it wanted to make it fool proof and that is why it has taken a few steps to improve trending topics. First they updated the terminology in their guidelines to make them clearer. Secondly they initiated refresher training for all the reviewers so that their content decisions are not made on the basis of politics or ideology. Finally they put in additional control and oversight around the review team.
While these were the changes that were put forth for human side of trending topics Facebook changed the way how the AI part of Trending Topics works. Facebook will no longer rely on the list of 1000 news media websites from which it used to identify, validate and assess importance of particular topics. It shall remove these feeds that used to be fed to the algorithm which generated Trending Topics. They are also removing the ability to assign importance level to particular news. They shall also be updating the Help Centre on Facebook to provide information to its users about how the Trending Topics tool works. The team from Facebook is also asking for users to submit feedback on this issue in hopes of improving the controversial Trending Topics section.
Source:
Facebook Newsroom
Be the first one to reply
Only logged in users can reply.