Home

>

Apps

>

Groups

>
Educational Linux Distro : Ubermix For Kids/Educators.
Question asked by Abhishek Rawal in #Linux on Mar 16, 2013
Jim Klein,Founder fo Ubermix designed the Linux based distro keeping Kids & Educators in mind.This is some kinda small awareness which is going to change the conception of Opensource & even the way of learning for upcoming kids.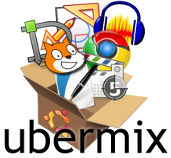 Ubermix is Ubuntu-based Linux distro which includes 60 free applications, Pre-installed.One great feature of Ubermix is that it can turn any hardware you own into learning machine,as it is easy & reliable in using without sacrificing any features in your mobile device.
Some Pre-installed Applications are :
Celestia,
GeoGebra,
iGNUit,
Scratch Visual Programming,
Stellarium,
Virtual Microscope,
VUE Visual Understanding Environment,
Virtual Microscope,
Tuxpaint,
TuxMath & Plenty more.
Download Link :
https://ubermix.org/download.html
Posted in:
#Linux