Home

>

Apps

>

Groups

>
Did I buy fake MicroSd "Samsung EVO Plus Grade 3 Class 10" from Amazon?
Question asked by Anoop Kumar in #Gadgets on Dec 18, 2019
I recently got Samsung EVO Plus Grade 3 Class 10 128 Gb micro sd card from Amazon. 
It claims,  Read/Write speed up to 90/100MB/s. However, when I tested with two different apps I go following result
Write Speed:  46MB/s
Read Speed:  24 MB/s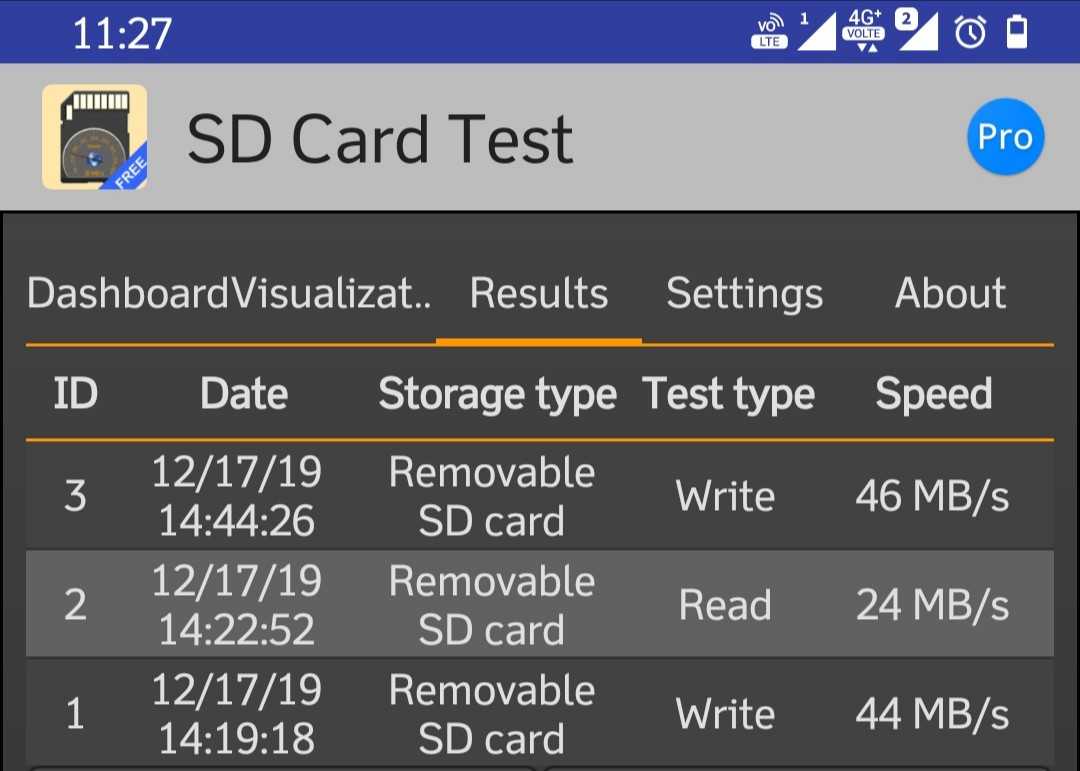 Posted in:
#Gadgets
I read the few reviews. the write is speed seems fine but read speed is really low at 24MB/s. Yes, the testing environment are different. May be I will test in computer read/write. Except, the product looks genuine.
Looks like the application you're testing with is doing random read/writes and not sequential.

If you have linux machine, you could use below commands to perform testing ;
//------------------ 
... 
dd if=/dev/zero of=/root/data.ce bs=500K count=2048
sync ; echo 3 | tee /proc/sys/vm/drop_caches
dd if=/root/data.ce of=/dev/null bs=500K count=2048
... 
//------------------ 
Well here is another update I used another geeky looking app CPDT benchmark with sequential read/write test of both internal and external memory.
External Samsung SD card: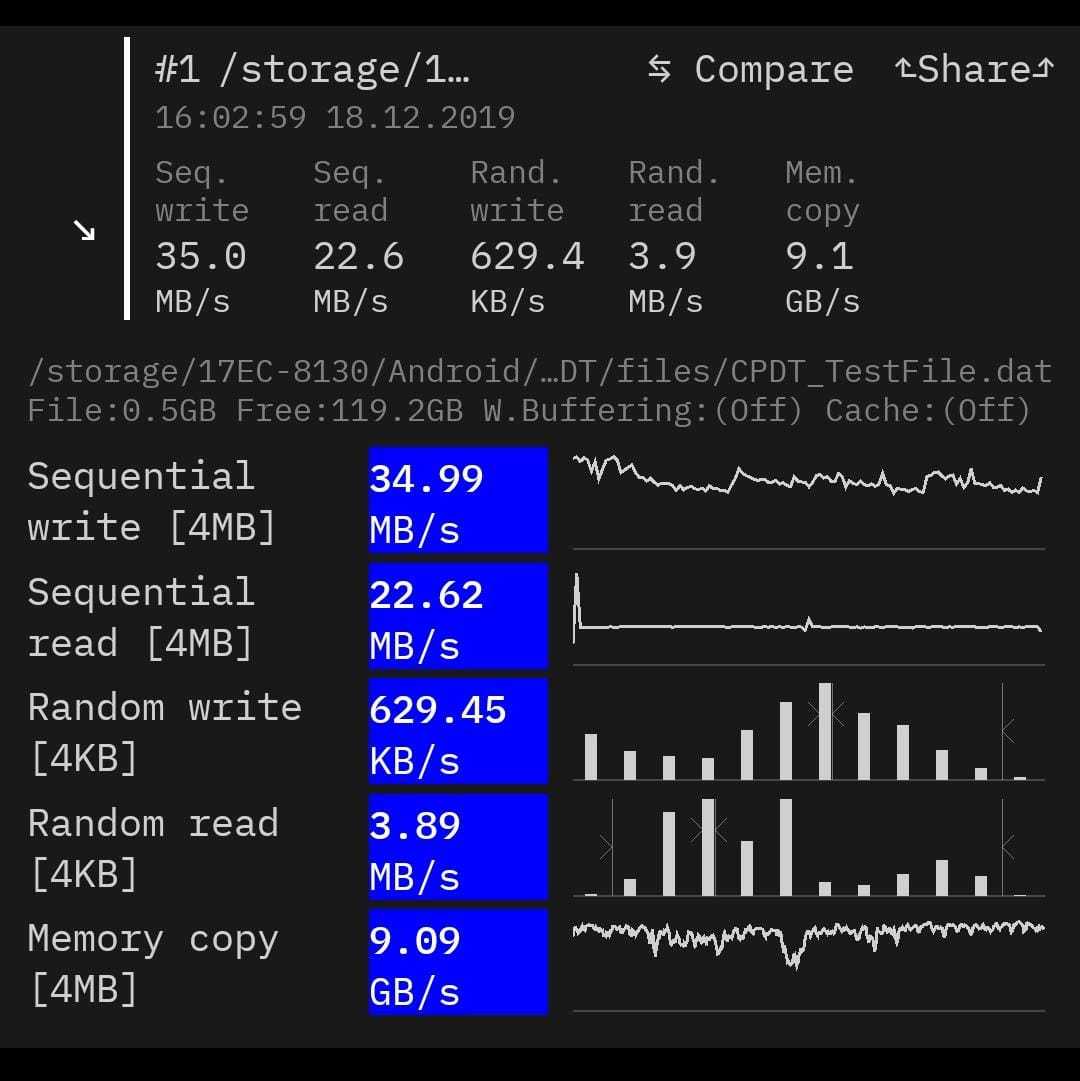 Internal memory, UFS2.1 : ASUS 6Z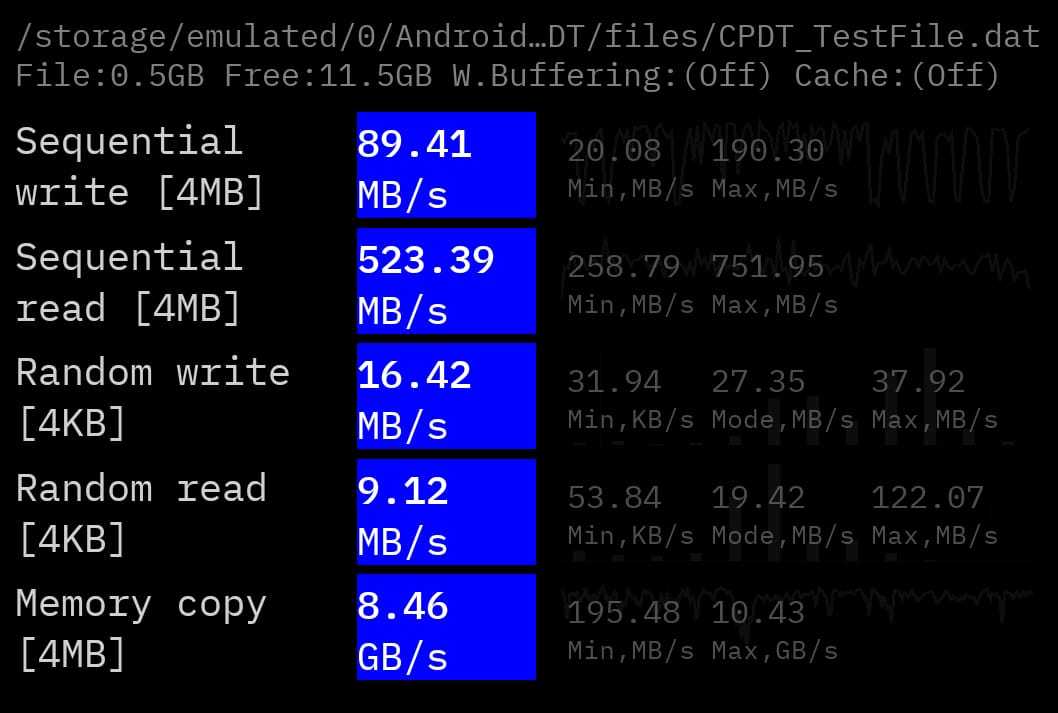 Also, I tried to register the product on Samsung India website and here the result. IT FAILED, so posting with serial number won't be an issue.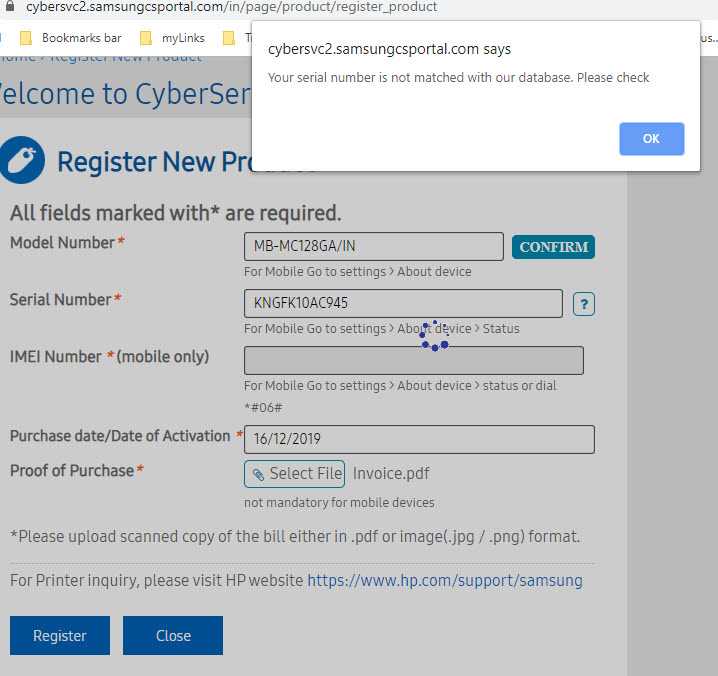 The model number is correct, I selected using "confirmed" button.
Where is serial number on Samsung Micro SD card? https://port1352.wordpress.com/2016/08/09/locating-a-samsung-sd-card-serial-number/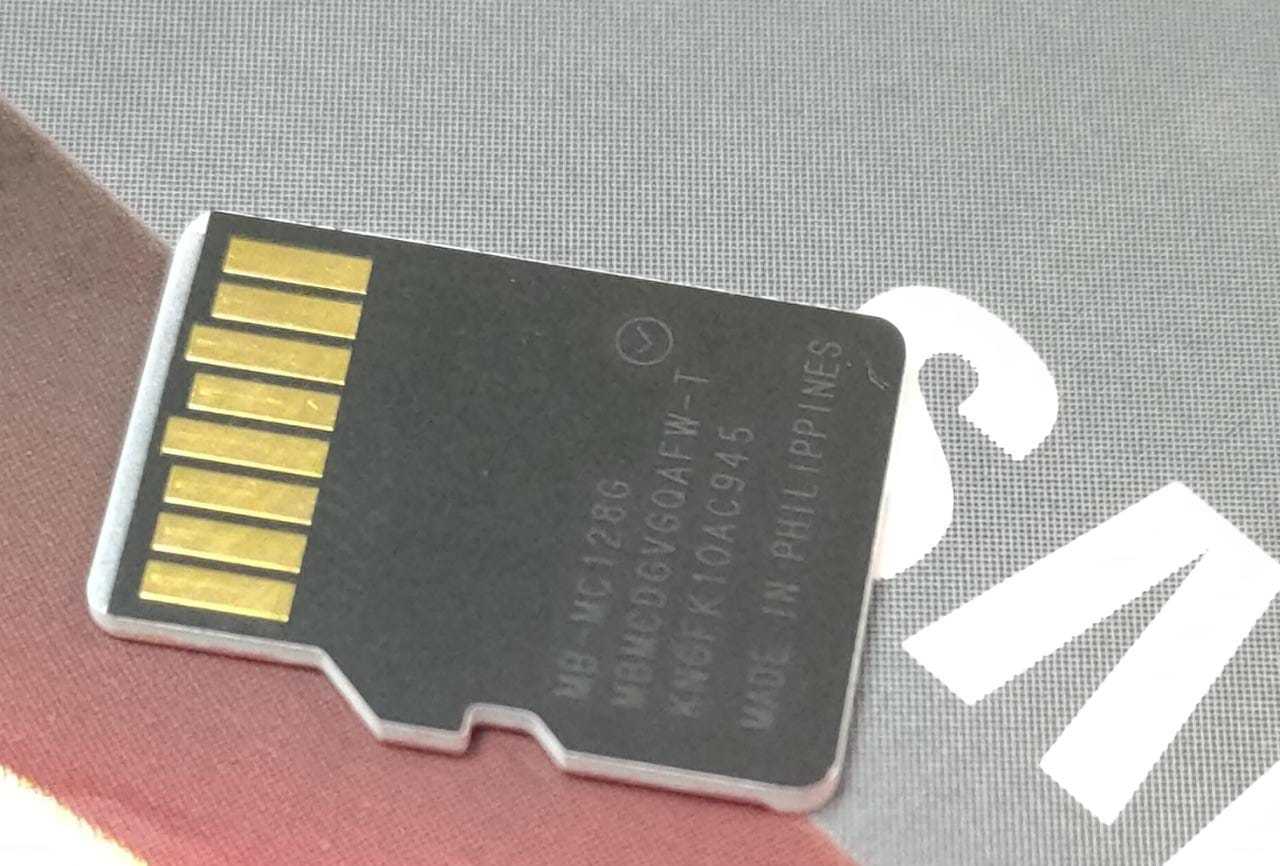 Does this confirms fake product?
I have already duped with fake 16GB HP pendrive. and Now this. Recently I had to return 3 Amazon items due to faulty of bad product.  
Interesting ;
Can you test sequential by increasing block size from 4MB to 128MB ?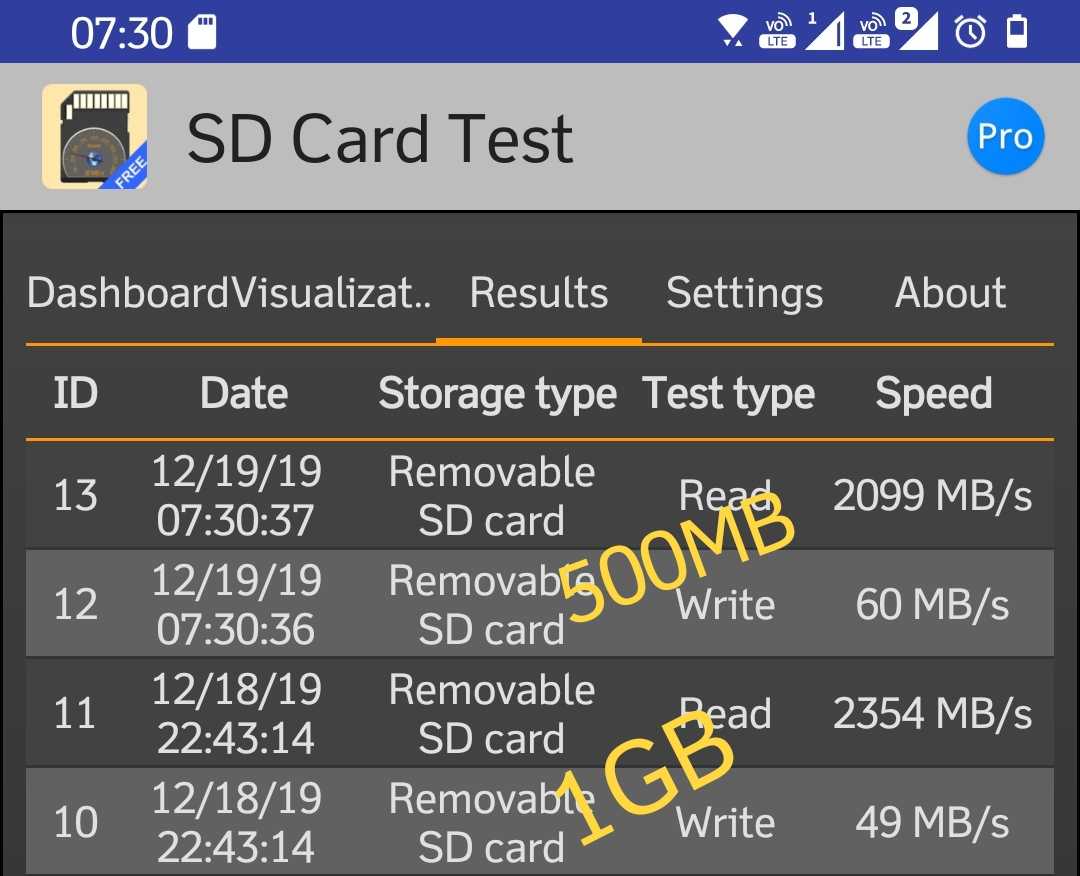 Here is the new result with 500MB and 1GB setting. 
This looks all fine. But still the registration thing is bugging me. 
Build quality of card looks authentic. Packaging have the Samsung 3D hologram. May be, I need to contact Samsung why registration failed.
Did you try asking SamsungIndia support handle on Twitter? Try them. These days, support folks are super active on Twitter. 
I got the response from Samsung seems like company is really making fool to avoid warranty claim
//------------------ 
... 
@SamsungIndia

I bought a MicroSd card from
@amazonIN
. I am not able to register the product.
Product Name: Evo Plus Class 10 3, 128 GB MicroSD.

Is this genuine product or
@amazonIN
send me a fake product.



Samsung's Reply:

Dear Mr. Kumar,

Greetings from Samsung!

This is in reference to your e-mail regarding register Memory Card.

We would like to inform you that memory card is accessory and on Samsung website you can't register memory card.

However, if you want to know memory card original or not, we would like to inform you that kindly check some details of device:

1. Product should manufactured by Samsung India Electronics Pvt. Ltd., if you are using product in India.

2. Dealer should provide you manufacturer warranty not seller and dealer warranty.

3. Product should not a refurbished product.

4. If engineer will visit at customer place for servicing of product with in warranty period customer need to show warranty document to engineer.

5. Check Markings on the black with model code backside of memory card.

6. Written with light color of memory card on memory card.

7. Memory card side color should be white.

Further you can also visit Samsung Memory card authorized service centre for examine the product is original or not.

Please find the details of the Samsung service centre nearest to your location (In Gujarat). You may also contact to service centre and send the product through courier services.

1. Service center: Supertron Electronics Pvt. Ltd

Service centre Address: Supertron Electronics Pvt. Ltd. 1/8/169 TO 179. 1ST FLOOR ,BEHIND HDFC BANK / OPP: HARYANA BHAVAN,PARDISE , Secunderabad, Telangana- 500003

Contact person: MOHD MUZAFFAR

... 
//------------------ 
According to point no 4, you should present warranty card in order to claim warranty . I just had a chat with Samsung customer care and it's again same radio about above point. 
 Amazon gives you warranty paper, but I don't think any retail dealer gives you separate warranty card.  So, if need to claim warranty after several years, you have to run behind shop for separate warranty paper.
My  HP USB drive is dead and I can't claim warranty. 
Here are things you need to claim your warranty for such things. 
//------------------ 
... 
1. After unboxing Make sure product have serial number printed somewhere.
2. As soon as you get the product, try to register on official website. 
3. Usually there are 5 to 10 years of warranty on storage devices. You should keep hard copy of invoice as well as packaging.
4. Take snap of packaging with product and bill, where serial number is visible. Save it to Google drive. Most of companies accept the snap. At least Wildcraft accept it. Even HP guy was ready to see if I have the snap of product with packaging.
... 
//------------------