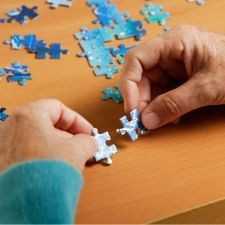 Brainy Puzzles
Puzzle Solvers: Interesting brainy puzzles shared by fellow puzzlers
271 Members
Join this group to post and comment.
Daily Brain Teaser
Guys i will try to add daily one brain Teasers,do find the answers.

1)The following pairs of words can be unscrambled to make two words that go together, like "this & that." All pairs follow the same theme. Can you determine what they say?


DARK BOG = ______ + ______
COW MEAT = ______ + ______
ASHES SINK = ______ + ______
BRANDY YOKE = ______ + ______

Hint

Old MacDonald had a farm...
Hi,
I tried out this teaser...Check out whether this is correct..
DOG BARK
CAT MEOW
SNAKE HISS
DONKEY BRAY
its correct miniy..nice work

Each of the following song titles starts with the letter D. Can you decode them? Each of the songs is in the form of an anagram.

1. A Modern

2. Decade Pruner

3. Cancan Deed

4. A Bravely Remedied

5. A Descended Dirtied Trophy
hey,you please just keep on adding your brain teasers everyday..Whenever we get the solution we'll let you know....