CrazyEngineers V4: Early Access
We are developing the next version of CrazyEngineers. If you wish to receive latest updates and early access, click the link below.
Home

>

Apps

>

Groups

>
Curofy Co-Founder On How They Help 1.9 Lakh+ Doctors Collaborate On Patient Cases With A Single Tap
Question asked by Radhika Deshpande in #Startups & Business on Feb 21, 2017
Born to a father, who is an Anesthesiologist and a mother, a Gynaecologist in a small town called Guna in Madhya Pradesh, Mudit Vijayvergiya, as many believed, was destined to become a doctor. However, life had different plans for him. A learner at heart, Mudit found his inspiration in sports and drawing motivation from his grandfather who was a national level Hockey player, he made it to the state camp of the Rajasthan cricket team. Interestingly, within 20 days of joining, Mudit realised his inclination was more towards academia. So, he started preparing for JEE and went on to pursue Chemical Engineering from IIT Delhi in the year 2008.
In January 2014, Mudit got together with his IIT-D batchmates Pawan Gupta and Nipun Goyal to start
Curofy
- a medical networking app that enables communication between doctors. With Curofy, doctors can easily find other doctors, call them with a single tap, and connect to collaborate on patient cases.
In this exclusive interview with CrazyEngineers, we got Mudit Vijayvergiya to talk about his IIT Delhi experience, how the idea behind his startup took root, their revenue model, key differentiating factors, where they are headed and a lot more! Read on!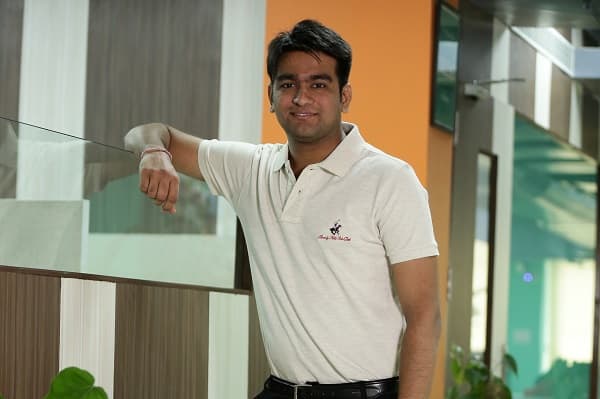 Mudit Vijayvergiya, Co-Founder - Curofy
​
CE: How were your IIT Delhi days back then? How was your experience working with Axtria?
Mudit Vijayvergiya:
IIT Delhi days were full of vigor, energy, experience, fun and hard work. I was the institute cricket team captain, and hence I was always involved in one activity or the other. The overall experience helped me to build brilliant networks of peers, professors, and mentors.
Axtria was the first exposure to corporate cum start up culture. The company had only started 4-5 years back then when I joined, but what I learned was the difference in cultures, between a service company and a tech company. I always wanted to build a product company and Axtria helped me validate that thought. The company had really good senior people who mentored me quite well.
CE: When did you start thinking about becoming an entrepreneur?
Mudit Vijayvergiya:
I always knew that I don't want to be a part of the corporate rat-race.
In the year 2010, when I was at home for my winter vacations, I used to spend most of his time at my mother's clinic.
I observed that every penny my parents were earning was because of their time invested into their respective clinics. That is when I realised, I should focus on building assets rather than earning cash by investing precious hours.
I didn't want my earnings to be directly proportional to my hours of working at the age of 35. It is a scientific approach to the economics of life, and I never wanted to become a cash-machine in any way whatsoever.
​
CE: How did you all come up with the idea of Curofy - 'A Doctor Networking App'? Tell us the story of your startup.
Mudit Vijayvergiya:
In the final year of 2012 during a midnight coffee break, the idea of starting something floated among the three of us and nobody ditched. We initially started working in the healthcare sector with a medical tourism company. The business was lucrative and offered good margins just to bring in patients from overseas, but it thrived on a big inefficiency where doctors are not connected enough to each other. It was then that we dropped the idea, took jobs with MNCs and continued researching about the concept of medical networking in India.
Till May 2014, we met around 1000 doctors on foot and realized that various functions of a doctor's practice are inefficient today; be it obtaining continual knowledge, best devices, financial support, medico-legal support etc. In a country with 1800 patients per doctor, this was a major flaw in the entire healthcare industry. We envisioned a product that can build a support system around the doctors and make the doctors more efficient every day.
In January 2015, we started alpha phase of the mobile app to receive user feedback and launched on Play Store in early Feb. Now we have about 2,00,000 doctors on our App.
CE: Who are the other people behind Curofy?
Mudit Vijayvergiya:
Curofy was started by 2 other co-founders apart from me. Pawan Gupta, who leads the product and technology verticals in the organization. Nipun Goyal, who heads the medical team, handles investor & media relations and oversees overall business strategy. I lead the user growth, international expansion and Pharma Business.
Nipun Goyal is an Electrical Engineer from IIT-Delhi 2012 batch. He worked with Rothschild in Mumbai for 2 years before starting with Curofy full time. Pawan Gupta is also an Electrical Engineer from 2012 batch. He worked with Deutsche Bank in Mumbai for 2 years.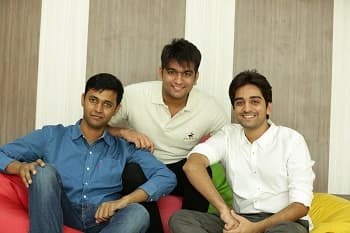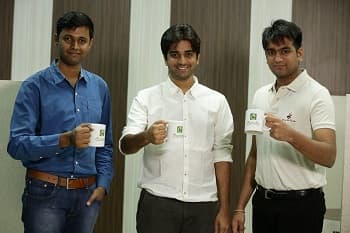 Cufofy Co-Founders
​
CE: Why did you feel the need to start something in the healthcare segment?
Mudit Vijayvergiya:
Curofy encourages peer-to-peer collaboration in learning and solving real-life cases to help them keep up to date with the latest in the medical world.
Currently, doctors are using FB groups and WhatsApp to discuss cases and community issues, but that's highly unorganized. The outlook is not professional and there is significant data loss.
More importantly, an aspect of networking and reputation management is lost as entire doctor community will never be active on one FB group or one WhatsApp group. Additionally, they are spammed on these platforms.
CE: Tell us how Curofy system works and what differentiates it from the competition?
Mudit Vijayvergiya:
Curofy is changing the behavior of doctors, making them adopt this closed social media through its relevance based algorithm, which keeps the platform targeted and spam free.
Strong verification process, helps in maintaining the authenticity and trust in the community. And hence the exceptional engagement rate. It is creating a huge impact in the digital healthcare industry by increasing the supply of "online active" doctors.There in lies Curofy's differentiating factor. The highly engaged collaborative platform for doctors and the verification process are perhaps the two differentiating factors.
When doctors are connected, the world is different. Think of the world where a GP in Jhajjhar Haryana is connected to a pediatric oncologist in Bangalore. Apart from the knowledge flow, the benefits are unparalleled. If a patient is seeing a doctor, he is actually seeing a network of connected doctors.
CE: What is the revenue model for Curofy?
Mudit Vijayvergiya:
The sellers are always there where the buyers are. With Curofy building a highly engaged platform for doctors where they are spending their valuable time, the industry stakeholders have already started coming knocking on our doors.
Curofy is currently doing projects with selected players; where the app provides them a chance to make their content available on this highly engaged network of doctors. Many industry stalwarts like GSK, Dr. Reddy's, Cipla, Boston Scientific, Medtronic and many more have started doing projects with us with the aim of effectively reaching out to the doctors. Curofy even in its short span of its existence has carved out a niche for itself and has made its mark as a major digital player in the healthcare industry.
CE: What according to you is Digital Health and Healthcare IT scene in India?
Mudit Vijayvergiya:
The healthcare industry has always defied the need for digital mediums since their focal point, doctors have historically shied away from it. With Curofy driving engagement amongst doctors at a rapid pace on digital medium, time is right for the healthcare stakeholders to start their digital revolution. It is an eventuality.
CE: Where do you see yourself two years from now?
Mudit Vijayvergiya:
We will keep improving our core offering to the doctors and help them in all aspects of their practice including knowledge, reputation, finance, and resources. We would also like to increase and improve the quality and quantity of our case repository, which can be used later to develop automation tools with the predictive diagnosis to help doctors take faster and accurate clinical decisions.
We will first conquer the Indian market and then go to other markets. We have already started running pilots in few overseas countries. We plan to have 1 million doctors on the app in next 2 years. Also, we will grow profitably. We expect to breakeven this year.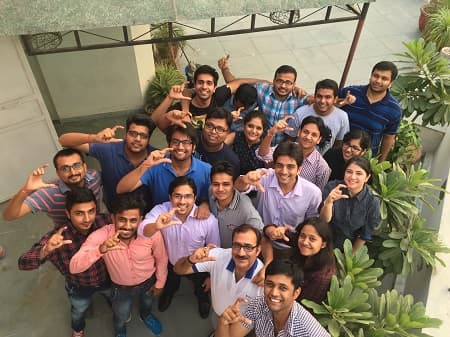 Curofy Team
​
CE: What is the one most exciting moment from your startup journey?
Mudit Vijayvergiya:
Well, this was in December 2015. That month announced the Indian market that Curofy has arrived. Before that we used to have 15-20, maximum 30 doctors who would register on our app everyday but we knew, for a social network to grow - there has to be a viral growth that should kick in, we planned lots of things, did many iterations before one did hit and that happened in mid-December and that marked the beginning of Curofy's growth. We started seeing more than 500 doctors registering on the platform everyday. I think that for me was the most exciting moment.
CE: What are the most important characteristics a person needs to be an entrepreneur?
Mudit Vijayvergiya:
Perseverance and passion are the two most important things. Rest every other characteristic can be acquired.
CE: Thank you for your time. Any message for engineers reading your interview?
Mudit Vijayvergiya:
Don't do anything forcefully in life. Do what you really want and trust me you will succeed.

​
Founders Circuit (The Venture Capture Series)
is our ambitious initiative at CrazyEngineers to discover new startups and ventures from all over the world and showcase them in front of millions of fellow crazy engineers based in over 180 countries.
If you believe in our vision, please help by suggesting new startup companies to our team. It does not matter how small or big the startup is; whether it has raised funding or has achieved any milestone. Leave all the hard work of selection of startups to feature in Founders Circuit to our team. If the startup you suggested gets featured; we will proudly mention your name in the featured write-up. You can contact our team
here
.

​
Posted in:
#Startups & Business