CrazyEngineers V1.1.0 Launched - What's New?
CrazyEngineers has been upgraded to version 1.1.0 and here's a list of changes that it brings -
1. New App: 'Downloads'
As promised, we have brought back the 'Downloads' app on CrazyEngineers. A large number of visitors to CrazyEngineers had requested for free downloadable material from our old site.
The downloads app can host large variety of freely available resources. Feel free to download existing material and if you have any resource that can be useful for our fellow engineers, please upload it. 
The app is colourful and looks super pretty. Do take a look and let us know. 
2. First post now appears only on first page of discussions:
In the earlier version of CrazyEngineers, we had first post showing up on all the pages of the discussion. However, it was requested that we only show it on the first page. We've heard you! ? 
3. Subscript and Superscripts
The editor in our Discussions app now supports subscripts and superscripts: H2SO4  and a2 + b2 = c2
4. Colourful ads and icons
We've tweaked the icons and (in-house) ads a bit to make them look better. 
5. Cache Server
While end-users may not actually 'experience' or see it, we now have a dedicated cache server that does the heavy lifting for the database. This means, we can do lot of interesting things in near future. We'll talk about them soon. 
6. App 'Add To Account' page redesigned
Earlier, we had a full-page Add to Account page for each app. Now it's been redesigned to fit the current layout. 
7. Miscellaneous improvements and bugfixes
We fixed a large number of small bugs and the work is still in progress. Minor updates will be pushed in coming hours that make the site more stable and secure. 
If you find anything out of place, let us know. For bugs, we'd prefer being contacted via Contact Us ? .
Do check out the brand new Downloads App, and let us know what you think.
Looking forward to reading comments about this new update from all our dedicated users. ? 
PS - There's one more change in one of the most commonly used functionality here on Discussions app. Can you spot it? 
Hint: 'at' ? 
c101 + d1110=?
2Al+3H2O=3H2+Al2O3
Perfect, @Kaustubh‍ ! A Chem E thanks you.
Problem with profile updating persists.
"Something Went Wrong" still turns up.
Btw, the feature I was talking about was - we now show user's photo while '@' tagging them. 
For example -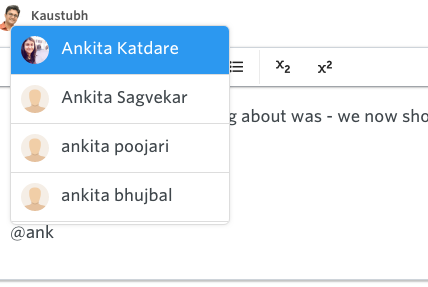 More updates -
Notifications are now paginated. We're working on removing old notifications ( > 3 month old read notifications) and in general all notifications that are > 6 month old will be purged from the system automatically. 

Nice Update ! Much needed features !
BTW I am still having issues in displaying Emoji !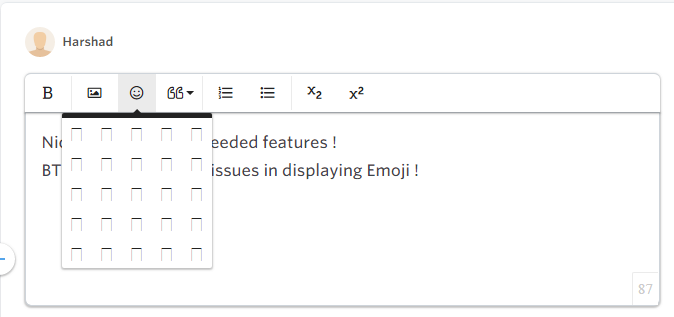 Attaboy @Kaustubh‍ !
Saw that at my last post. Took it for granted that it was always there.
@Harshad‍ - It's really a strange issue that we are not able to replicate on our test setup. Could you inform about -
1. Operating system (desktop)
2. Browser (could you try replicating this with FF and any other browser)?
3. Does the problem occur on mobile device as well? 

Hi One problem i see with @Kaustubh‍  is , if  the person posting is Prasad Raju (for example) there will be many prasad's in our list. Hitting "at" will give dropdown of all prasad's but we will not be able to know who the prasad posted something above.  Mouse over the icon if it gives full name that really helps.
That's one of the reasons we want users to upload their profile photos. The suggestions are made based upon user's last activity. Which means, a user who's recently been active will be suggested at the top. 
In near future, we plan to introduce 'Follow' feature so that we can make a better guess at who's being tagged.
If one tries to put in a link to a search results it does not upload the  reply. I got round it by first posting without the link. I later edit the post adding the link. The edited post gets accepted. Bit mysterious.
@Ramani‍ sir, the issue has been identified and will be fixed in an upcoming rewrite. Apologies for the inconvenience. We could not catch the issue during testing. 
I thought that this might be intentional for some security related issue.
Not a major issue since editing feature gets around this for the present.
Bug fixing whether Dengue or virtual is tough.
Only logged in users can reply.