CrazyEngineers Anniversary Grand Giveaway Discussion
This is the dedicated thread where you can discuss anything and everything about the CrazyEngineers Grand Giveaway scheduled from 26th October to 26th November 2016. 😀

Share your comments, opinions, winners can share their prizes et al!

Looking forward to your replies here.
This is the biggest Celebration I am going to be witness in my last 7 Year with CE. 😀

Harshad Italiya

Congratulations @Debasmita Banerjee for winning Day 2 !
Thank you so much!! It's Iron Man's bless and Judges decision after all! Honestly, I didn't think I would win.But it made my day, 😀😁 Nothing can be better than this, Best Diwali ever with Amazon Gift Card!! Yippe!!!!!!!!!!!
Others buckle up! join the great giveaway. A completely new approach taken by CE to appreciate its users. Only 28 days left!

Thank you so much 😀 for the
CrazyEngineers
(Amazon) gift card worth ₹ 500 . thanks again CrazyEngineers team for lending your time reading my techno-fiction article. ha ha 😀 (this is my first article on internet forums, never written before) sorry for my bad grammar 😉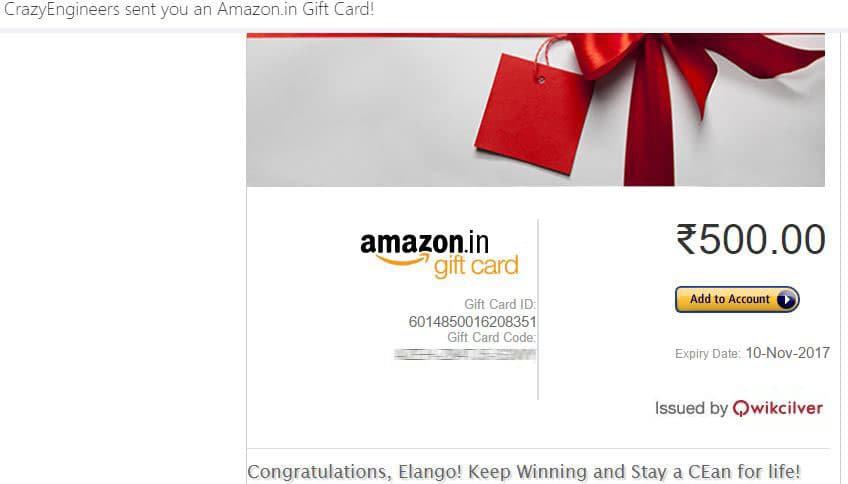 Only logged in users can reply.