Home

>

Apps

>

Groups

>
College Fest Event Ideas - New, Fun & Interesting Ideas Are Welcome!
Question asked by Ankita Katdare in #Coffee Room on Sep 21, 2015
College fests can have the following events in their campus -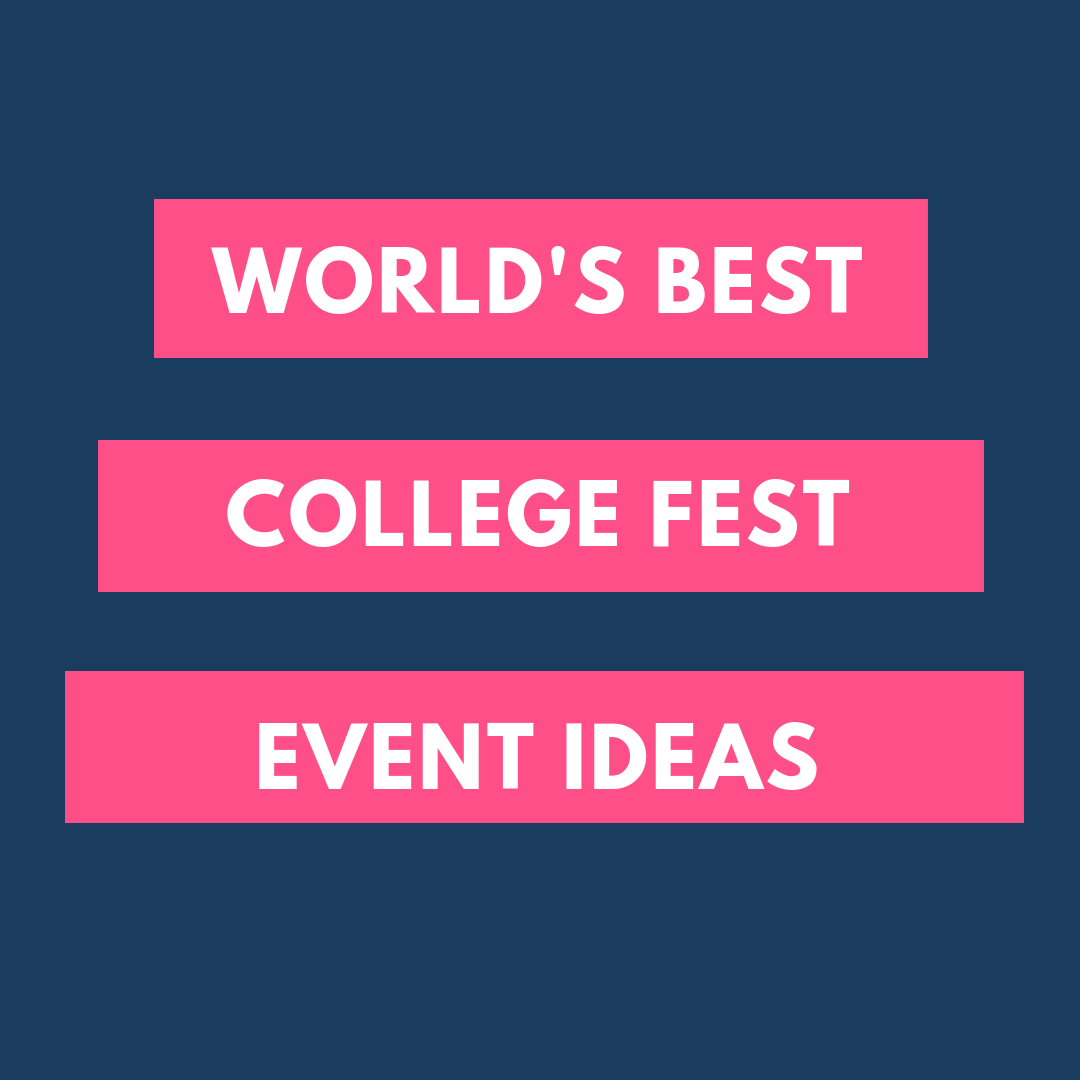 Paintball 
A game where players (in teams) compete to eliminate opponents by shooting them with guns that throw water-soluble dye balls. Build a maze in the college ground with materials from a local exhibition centre. That should give you minimum 5 hours of total fun!
Mimic a Music Band

All colleges have great musicians and freshers bands. Instead of a normal rock-on like jamming competition, you can have all the participating bands mimic a popular mainstream band of their choice. The one who is closest in mimicking (Everything from clothes, hairdos, equipment, style of performance etc.) should win!
Mock CID (Way better than a treasure hunt!)
Create an interesting on-campus murder story. Have multiple participating teams. Leave clues tracing back to the murder on the campus. The clues should lead to witnesses (volunteers should be asked to role play) and the one who finds out the real murderer first wins!
You can have a back story and leave clues all around the campus, along with dummies acting as dead bodies, and have some volunteers act as witnesses.
Ice Cream Sticks Modelling
For both individual and group entries. Give only ice cream sticks and glue (you can add thread or match sticks or newspaper also) as material.
Give an elaborate task. The participants are supposed to use the sticks to build a structure that should achieve the goal.
For instance: Build a bridge that holds a standard size mobile phone for at least one whole minute. Or Build a boat out of the matchsticks that will take a mobile phone from one edge of a water body to another.
Mad Ads
Though this is a fairly common event, you can add a twist, by first creating totally fake products that are really hard to sell. Like a "smart helmet" or something really dull. Ask them to write the script for the ad, enact it on camera, create a 2-3 minute full fledged ad. Show it on a big projector before ranking them.
Impromptu Poetry Contest
Medium/Language No Bar! Ask the contestants to come on stage one by one. Give them a topic and 1 minute to think. They recite their poem in a language comfortable to everyone (English, Hindi or any regional language). The one that generates the biggest applause + judge's ranking wins!
Marketing (Convince an innovative idea)
Participate in teams. Give a product/service as the starting point to all the teams participating. Their job is to go to a real-life shop-owner/mall and convince the one at the counter to use that service or own that product. One of the team member has to record the entire conversation and send the video as an entry. The team that is the most successful in convincing a third party wins! They way they do it has marks too!
Wordsworth
The literary club in the college can host this contest in the library. Have all participants come with a paper and display one big word on the screen at a time. Participants have 60 seconds to write as many small words from the one big word as possible in those 60 seconds. Repeat for at least 5 rounds. The one with highest word count of legitimate words (with letters only from the one big word) wins!
Quiz Contest (about some really out-of-the-box theme)
We know that quiz contests are generally about - Movies, Technology, Books, Management, Startups, Computers etc. Pick a completely new theme. Say, about your "city" and design all the questions exclusive to the place.
Personality Contest with a Twist
Instead of awarding Mr. & Ms. <so so> of the College every year with the same rounds, make the participants do something really different. Do not keep it as a simple fashion show, where the winner is only the one who wears nice clothes and has a nice build.
For instance, make them do a village round and come up with an innovative solution to real-life problem and implement a prototype (record the whole thing on camera).
Ask them tough rapid-fire questions. Ask them to do a very strange thing in front of a crowd or make them talk to strangers for selling candy or toothpaste. Ask them to build something on stage. Perform some kind of art on stage etc.
Pick the one who scores very highly on every round.
Cosplay for Famous Inventors/Scientists/World Leaders
Ask everyone to come dressed as a famous inventor or scientist or a world leader. The one who's costume matches the most wins!
Best Electrical/Mechanical/CS/IT/Civil Engineer Contest

Create a on-stage game for a particular branch. The one who claims to know the most about his/her branch can become the participant. Ask them questions with audio-video clues in a quiz-style fashion, the one who answers questions related to curriculum the fastest wins!
.....
Hoping to add more ideas here! If you have any, please put up yours in replies below.
Posted in:
#Coffee Room
Mobile App Mockup

Participants are supposed to come up with an innovative idea for an app. They don't need to have the knowledge of coding/programming. They have to do a presentation explaining their app (if possible show the wireframes and screen mock-ups). The judges will give marks based on the problem-solving thought process, creativity and friendly UI design.

Case Study (Entrepreneurship)

All participants (probably in teams) will given a case study about a business/company.
They have to come up with the appropriate solution for the problem statement accompanying the case study. Present the solution along with their key learnings from the experience.

Start with Rs. 50

Give each participating team Rs. 50 and one whole day to use that money to create more money. The one team that makes the most, naturally wins! (Tip: Keep one volunteer with each team to prevent them from cheating in any way).
It would be great if CEans can come up with some interesting ideas. We need more enthusiasm for this discussion.
prank clips.. i think it will draw students attention coz everyone likes to see pranks videos.. some guys can take this oppurtunity to film their prank to any random student of their choice n show it to the judges.. best clip makers wins
Here are some more ideas we came up with -

1. Funk from Junk

Give the participants 60 minutes to collect junk from the college campus. And in next 30 minutes, they need to make a sellable product from the junk. It can be a toy, jewellery item, home decor items, something to make a mechanical process easier etc. The list is endless. They can later do a pitch about the product, and a jury decides which one is the best!

2. Rural Marketing

Go to a rural area near you and find local products that can be sold on a major scale.
Can we add to the list? Looks like lot of fellow engineers are searching for new fun events. 
Looks like a lot of our fellow engineers are looking for college event ideas. Let's expand the list. If you want more ideas - let us know.
Fun and Interesting College Event Ideas
TEDx Talks : If you haven't organized a TEDx talk in your college, it's time to do it this year! Invite interesting speakers from areas around you and listen to them - you'll not only have fun organizing the event but also learn a lot of new things. 
Alumni Meetup: If your college doesn't have an alumni network - it's time to establish one. Give a shout out to all the seniors who've graduated from your college and organize a cultural fest for them to participate. Networking with your college alumni will not only be a pleasing experience, but they'll also help you find the right placements and internships.
Smartphone Movie Contest: Everyone's got a smartphone and it's time to let the creative energies flow freely around the campus. Organize a smartphone movie contest where participants have to create a movie that's no longer 3 minutes. It should be a mini-movie with story, at least 5 characters and have a 'proper' story. You'll be amazed how much talented your friends are! 
Treasure Hunt: This used to be my favorite when I was in college. We had come up with an interesting concept called 'Binary Treasure Hunt' where the teams had to report the clues (binary digits) without making use of any notepad or mobiles. Upon successul reporting, they' get the next clue. It was great fun.
The Pitcher: How about organizing a sales pitch or elevator pitch competition where groups of students can pitch their business ideas to eminent business personalities from around your city? 
Will add more to the list. Let me know if you find these interesting. 😀 
If anyone is looking for stage show ideas for College Fests, I think it would be great to watch foreign Improv Comedy Shows like 'Whose Line Is It Anyway?' and then conduct a stage event in your college auditorium where you involve the entire audience in the program.
Another idea is to make students 'sell' stuff in your college. Give them 4-5 ideas about making their own products from scratch. It could be something as simple as fest theme caps, t-shirts, stationery items etc. or a bit more complex like discounted software license or subscription to a website's premium plans for online courses, tests, scholarships etc. So basically best deals for college students.
Here are a few more ideas for college fest events.
1. Dart Throw 
This could be placed at the entrance of your college campus. If a student hits a balloon, he can get free entry to that particular event (without any registration fees)
2. Rubik's Cube Challenge
Give it some twist like Tambola/Housie. Fastest to do the first layer gets some prize. Fastest to do first 2 layers gets one prize. Same for each side of the cube and the grand prize for the whole Rubik's cube. This can happen all day in groups of 20-30 people.
3. Model United Nations
Getting speakers from across the college to talk about the most important issues plaguing our country. Not just talk, but offer solutions.
4. Scrap or Junkyard Wars
The best way is to collect junk from around the city and place it in the middle of college campus. Every participant gets to choose only 5 or 10 items and build something meaningful out of it.
5. Graphic designing contest + voting 
Cool t-shirts on sale is a great idea for a college campus. Using the name of the college fest, students can design tshirt graphics or graphics for college fest merchandise and its put up for voting on college's official portal (website or app) or promoted via whatsapp groups or facebook groups. Highest voted wins and the merchandise is actually printed and sold.
Quest Quest Quest!  Love the puzzle and competition spirit? Go to the "Breakaway" or organize "Fight." You can try to spend game alone, good, on the Internet a lot of ready-made scripts. Or invite special people who will develop a route for you and make everyone run. The game can be developed by your favorite computer game or a popular book. And at the end of the quest, you can gather in one place and have a noisy party. 
Let's hit the workshop on the gray weekdays. Have you long wanted to become a master of making delicious and interesting cocktails? Invite the bartender who will arrange a demonstration for you. Or a cool dancer - he will teach you to dance in the style of dub-step or locking. And then - dancing! After all, all students know that the knowledge gained must be consolidated in practice. 
Pajama party. Such a holiday with popcorn and watching movies like many, do not forget to arrange a battle on the pillows in honor of the joyful College Fest.
Write an essay. Creative students can write about their student life. Do not use the college admission essay writing service. Write an essay yourself and send it to your teachers with best wishes. They will be pleased to receive a letter from students.
Park Party. Who else knows parks as well as students, especially those who are located near the university? How many romantic stories were there, how many sessions were celebrated! And let the weather is not particularly dispose to a party in the park, still it is worth to go there and drink a bottle of champagne on your favorite shop in honor! 
Really cool ideas @Sharon If you all have more ideas, do share. It's the season of college fests across the country. The more technical game ideas we share, the better. If possible, let's classify them engineering branch wise.