Canon Powershot G16 Digital Camera Now In India For Rs. 34,995
Canon India has brought its latest G-series camera model with Canon Powershot G16 in India. The 12.1 megapixel high sensitivity CMOS digital camera features a DIGIC 6 processor and 5x optical zoom. Thanks to the built-in Wi-Fi technology, with Canon Powershot G16, users can wirelessly transfer their images to social networking sites through Canon iMAGE GATEWAY. Using Canon's Window app Capture, you can upload the pictures and videos on any of the iOS or Android devices. The camera can shoot Full HD video at 1080 pixels. Canon claims that the high speed AF improves focus speed by shooting 12.2fps continuous shooting in full resolution and 5.7fps with AF.
The 5x optical zoom (28mm-140mm) is expandable to 10x with Canon's new ZoomPlus feature. Thanks to a bright f/1.8(W) - f/2.8(T) lens, the G16 enables users to capture more in your frame and performs well in low light, for creating soft backgrounds with shallow depth-of-field. The camera boasts of features such as built-in Wi-Fi for uploading and sharing pictures, artistic HDR Scene Mode, and a number of star shooting modes designed to take pictures of the night sky, in addition to new creative filters for adding effects. The PowerShot G16 also comes with a Background Defocus feature and can produce the "bokeh" effect. It does this by taking two photos, and blurring the background as needed. The Canon HS SYSTEM lets you use higher shutter speeds to capture clearer images with reduced noise and blur in a variety of situations for incredible photos and videos.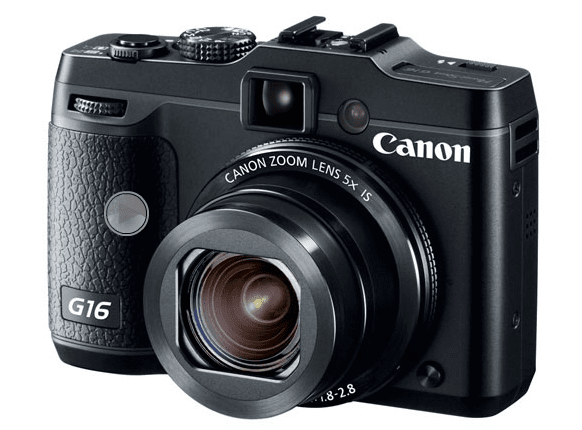 ​
The G16 shooter also features the obvious - a flash that can be used in different modes like auto, flash on or off and slow synchro. And what's more, the PowerShot G16 has a self timer and you get various shooting modes to enhance your images. Moreover, the PowerShot G16 camera lets you expand your creative options with a variety of optional accessories. Tele-Converter TC-DC58E, for example, enlarges the camera's reach by 1.4x. A lens hood is included to block unnecessary light from outside the angle of view. By connecting its HDMI terminal to your HDTV using an HDMI cable, you can play the videos on your televisions. PowerShot G16 supports HDMI-CEC technology, you'll be able to control the playback of your images and videos on any CEC-enabled HDTV using the TV's remote control.
The camera is now official in India at a price of Rs. 34,995. It is garnering a lot of positive feedback from its users in the US and other countries. How do you like the Powershot G16 features? Share your thoughts with us in comments below.
Be the first one to reply
Only logged in users can reply.