Home

>

Apps

>

Groups

>
Apple's iPhone 9 could come with L-shaped Batteries supplied exclusively by LG Chem
Question asked by Rucha Wankhede in #Gadgets on Jul 22, 2017
Amidst the speculation about the probable launch of iPhone 8 from Apple, there is a report doing rounds about its successor iPhone 9, claiming LG to be the sole provider of batteries for the device. iPhone 9 is rumored to boast enhanced battery capacity without compromising on its thinness and is likely to be launched next year.
​
LG Chem reported to be the exclusive supplier for the stock of batteries has supposedly invested hundreds of billions of Korean Won in a dedicated battery manufacturing facility and would likely begin the full-scale production early next year, the source quoted. Until now Apple has practiced sourcing through a multi-vendor approach, to get supplies from as many suppliers as possible to bring the costs down. These have included supplies from China's ATL, Japan's Murata Manufacturing, LG Chem and Samsung SDI. The recent move hence seems a bit unusual for the tech giant.
The batteries that LG Chem is slated to deliver to Apple are an L-shaped one. They are customized only for Apple to help save the space on the phone's lower-right side. Since its release, iPhone has sported standard rectangular 'jelly roll' lithium-ion batteries. However the proposed design for future iPhone 9 ensures fast charging capabilities and frees up more internal space on the bottom right of the iPhone evolved from the development of component miniaturization and integration technology.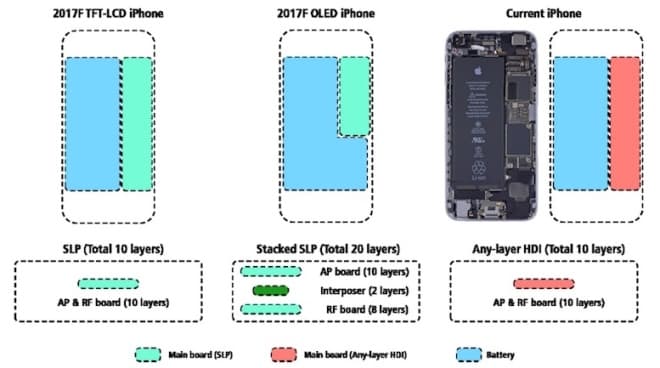 ​
Apple Inc. is also rumored to introduce two new OLED screen sizes (5.28-inch and 6.46-inch) with the future smartphone. Meanwhile iPhone 8 is set to be unveiled soon through a gala launch and is expected to sport an OLED display, glass sandwich design with front-facing 3D-sensing camera, wireless charging and embedded Touch ID sensors.
Source:
KoreanDaily
| Image Credit:
BGR
Posted in:
#Gadgets