Announcing CrazyEngineers.io App Ideas Contest - [Win Rs. 2000 Amazon Gift Voucher]
Howdy folks!

We bring to you - The CrazyEngineers.io App Ideas Contest.
Deadline: 10th August, 2016 [Wednesday] - 12:00 PM IST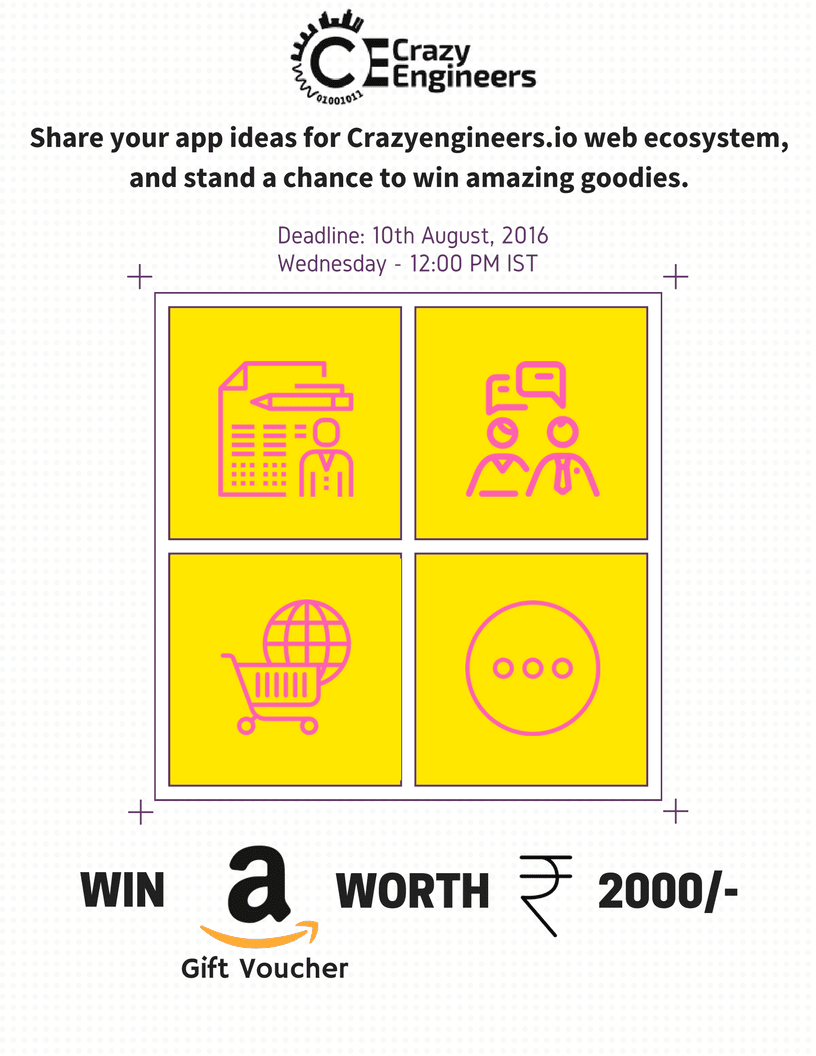 ​
First things first:
Q: What is CrazyEngineers.io?
A:
It is an online ecosystem of web apps built for engineering students & working professionals. Through CrazyEngineers.io we've planned to offer different products & services for our users in the form of web apps. These apps include - resume builder, resume review, career help, store, events listing, startup jobs etc.
Q: What is this app ideas contest all about?
A:
Since we are yet to reveal what these apps are or what they do, we have come up with a contest that lets you share your ideas about what kind of apps will be super useful & interesting for engineers.
Q. What is the eligibility criteria to participate in this contest?
A:
To take part in this contest,
you need to SIGN UP on
Welcome - CrazyEngineers
as we have our Early Access Program going on! We will verify your email address.
Q. What kind of app idea can I submit?
A. You can submit any app idea that you think will benefit engineers like you & me.
Think from the point of view of every engineer in your surrounding. What kind of problems (simple or complex) do these engineers face? Can there be a solution to them? If yes, that's your app idea!
Q. How many ideas can I submit?
A. Only one. Remember that, you can submit the contest form only once. We recommend that you fill only one idea that you think is the best.
------------------------------------------------------------------------------------
Our team will select a participant whose app idea is really useful for engineering students and/or working professionals and award him or her with a

Rs. 2000 Amazon Gift Voucher

.
------------------------------------------------------------------------------------

<REGISTRATION CLOSED>
Got questions? Ask below.
​
This is great! We have received our first contest entry already. ☕ Getting coffee mugs to sit back & read.
We have received 11 amazing ideas so far.

its great to be part of it but while im signing up it is taking huge time and i have some useful ideas which is mainly mean for engineering students
21+ really interesting ideas received.
Looking forward to today's entries.

When are the results????😎😨👍

What is the use of giving an idea to u? Instead, i myself can create the app and release it to earn money with that app ?
Don't mistake me it's just a doubt.😒!

A.Tamilazhagan

What is the use of giving an idea to u? Instead, i myself can create the app and release it to earn money with that app ?
Don't mistake me it's just a doubt.😒!
It won't necessarily be an paid app. I believe they are charging only when its absolutely necessary. For eg. An app for career counseling. Now they won't be doing it themselves. CE will need another person who don't work for free.
Besides, their app ecosystem is already ready. That said, if you really have such a breakthrough idea from which you think you can earn money, then definitely you should go ahead and create the app yourselves.
[Prototype] got it spot on 😀

It's true that anyone with right skills can build the apps that we're building. In fact, we are already thinking of forming a developer group to help building, maintaining our apps. Let's see how it works out.

Suggesting an idea does not guarantee that it will get implemented. So if you think you've a great idea that you think will help all our fellow engineers; you can suggest it and if it wins as the best idea - you'll get prize. You can of course develop it as your independent project.

At CrazyEngineers, our goal is not to make our company 'win'; but rather, help all our fellow engineers win. We aren't competing with anyone and acknowledge that similar apps do exist on the Internet. We just want to improve upon existing ideas and look for newer ones that will help solve specific problems for engineers or make them awesome in anything/everything they do.

Regarding the monetization part: we know it's super hard! Especially in India, most people are reluctant to paying money for software / services. We want to make an attempt at helping engineers through the power of community (every member helps each other) by offering services/products and availing services/products. Let's see how they 'business' aspect of it works out. We hope to be very transparent about it.
55 amazing ideas received so far! Last 2 hours left.
Total 67 entries received.
The contest has ended! Entries closed.
Results will be declared tomorrow i.e. 11th August - 12:00 PM. ​

Hi Ankita! I sign up on this forum just looking for help 😉 because my daughter is in enrolled in a STEM Academy and she have a homework that is due on this Friday September 23th. The assignment for this PLTW project is find an engineer and ask seven questions (picture attached). Could you help with this? if not that's fine... I understand. You can send me the answers to my email:
ajsonegraphics@gmail.com
Only logged in users can reply.