CrazyEngineers V4: Early Access
We are developing the next version of CrazyEngineers. If you wish to receive latest updates and early access, click the link below.
Home

>

Apps

>

Projects

>
Study on Strength of Concrete by Partial Replacement of Coarse Aggregates with Ceramic Tiles and Fine Aggregates with Ceramic Tiles and Rebutted Tyre Waste
To Increase the Strength of Concrete by Use of This Wastage Compare to Conventional Concrete
Project Abstract
Due to the day to day innovations and development in construction field, the use of natural aggregates is increased tremendously and at the same time, the production of solid wastes from the demolitions of constructions is also quite high. Because of these reasons the reuse of demolished constructional wastes like ceramic tile. And rebutted tyre waste came into the picture to reduce the solid waste and to reduce the scarcity of natural aggregates for making concrete. The ceramic tile waste is not only occurring from the demolition of structures but also from the manufacturing unit.
Studies show that about 20-30% of material prepared in the tile manufacturing plants are transforming into waste.  This waste material should have to be reused in order to deal with the limited resource of natural aggregate and to reduce the construction wastes.
The ceramic waste crushed tiles were partially replaced in place of coarse aggregates by 10%, 20%, 30%, 40% and 50%. In this present investigation the fine aggregate is replaced with two different type of materials i.e rebutted tyre waste and ceramic tiles powder. Among which the rebutted tyre waste dosage is kept constant by 10% weight to the fine aggregate replacement. And the ceramic tiles powder is partially replaced by fine aggregates in proportion of 10%,20%,30%,40% and 50%. M25 grade of concrete was designed and tested. 
The mix design for different types of mixes were prepared by replacing the coarse aggregates and fine aggregate at different percentages of crushed tiles and rebutted tyre waste. Experimental investigations like Workability, Compressive Strength Test, Split Tensile Strength Test, Flexural Strength Test for different concrete mixes with different percentages of waste crushed and rebutted tyre waste after 7, 14 and 28 days curing period has done. 
It has been observed that the workability increases with increase in the percentage of replacement of rebutted tyre waste and crushed tiles increases. The optimum presence of coarse aggregates that can be replaced by crushed tiles and fine aggregates by ceramic tiles powder and rebutted tyre is 30%.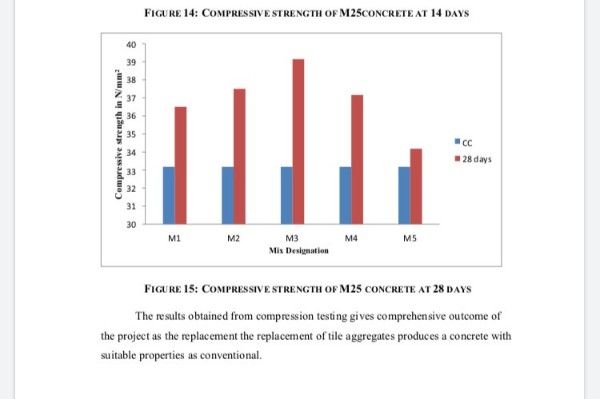 List of Deliverables
Project documentation in pdf
Project ppt and plagiarism certificate
Tags
#ecofriendly
#concrete
#civil