CrazyEngineers V4: Early Access
We are developing the next version of CrazyEngineers. If you wish to receive latest updates and early access, click the link below.
Home

>

Apps

>

Projects

>
Metal Detecting Robot based on Arduino
Advanced alert system is set up to the metal detector placed on a robot car controlled by Bluetooth module.
₹12000 · Chittoor · Electronic
Project Abstract
This project is mainly used for finding metal elements. In army for detecting the land mines the soldiers use handled metal detector so that some times the land mine was explode. That way the soldiers are died.
 For solving this problem, this project is used .This project have advanced alert system that is message alert. This is designed by using 'Arduino' technology. In this project the metal detector is connected to arduino board, the whole circuit is placed on one robot car. This car is controlled by bluetooth by using radio technology with Bluetooth module. When the metal detector detect the metal the arduino send message to mobile by using GSM module. 
This project obtain only one arduino board because all three application programs are merged in only one board. Using this project find valuable treasures at under land and covered areas and also detect the land mines at un manned areas. This project also used for security purposes.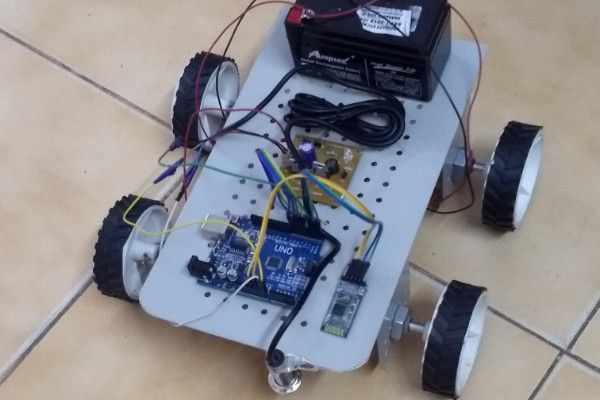 List of Deliverables
Arduino Uno
Bluetooth module
Metal detector
12v battery
Cheses
Dc motor
Motor driver
Power supply board
Tags
#Electronics
#Arduino
#robotics