CrazyEngineers V4: Early Access
We are developing the next version of CrazyEngineers. If you wish to receive latest updates and early access, click the link below.
Home

>

Apps

>

Projects

>
Library Information System in Java
It provides the information regarding the books available in the library.
₹700 · Indore · Computer-Science
Project Abstract
Library Information System is a Java based minor project. It is based on MVC type Architecture. It is a three layered project namely- DATA Layer, BUSINESS Layer and PRESENTATION Layer. 
The DATA Layer is the database layer where all the information regarding the books and their corresponding authors are stored.
The BUSINESS Layer is an intermediate layer where all the data from the Data layer is fetched and stored in Data Structures to improve the efficiency. 
The uppermost layer is the Presentation layer or the UI layer.
It has two options- Author Listing and Book Listing. 
You can add/delete/edit the authors as well as books. Also you can search the authors and books present in the library.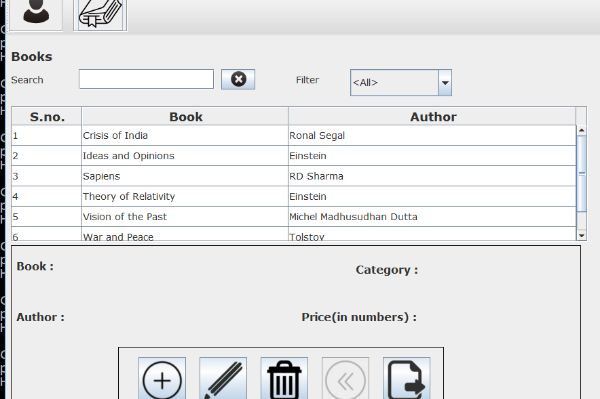 List of Deliverables
Complete Project
Project Report
Project SDS
Tags
#Java
#Information Technology
#Computer Science