CrazyEngineers V4: Early Access
We are developing the next version of CrazyEngineers. If you wish to receive latest updates and early access, click the link below.
Home

>

Apps

>

Projects

>
Gesture Controlled Robot Using Arduino
Movement of a robot using an accelerometer sensor.
₹3399 · Mahabubnagar · Electronics-And-Communication
Project Abstract
The goal  of  gesture  recognition  field  has  always  been  the minimization  of  the distance between the  physical world and the  digital world. The  way humans interact  among themselves could be implemented in communication with the digital world by interpreting gestures via mathematical algorithm. Numerous ways and algorithms have been proposed and implemented to achieve the goal of gesture recognition and its use in communicating with the digital world. Gestures can be tracked using accelerometers. Since modern Smartphone are equipped  with an  in-built  accelerometer, gesture  control  using  ADXL335 accelerometer sensor can  be  easy  to  implement,  cheap to provide and the output will be  more intuitive. This project deals with the design and implementation  of a wired gesture controlled Robot using Arduino and other hardware requirements.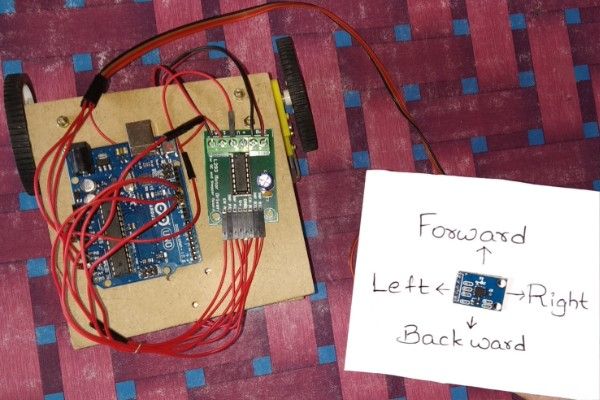 List of Deliverables
| | |
| --- | --- |
| Arduino Uno with USB Cable | |
| Dual Shaft Bo Dc Motor - qty - 2 | 3-Axis Accelerometer Module |
| Wheels for Motors - qty - 2 | |
| | |
| | Electrical Insulation Tape |
Tags
#Embedded Systems
#Microcontroller
#Accelerometer
#Electronics
#robotics