CrazyEngineers V4: Early Access
We are developing the next version of CrazyEngineers. If you wish to receive latest updates and early access, click the link below.
Home

>

Apps

>

Projects

>
Department Web Portal Using PHP, HTML and CSS
The project is an interaction between student and faculty where student can ask a question ,view results ,timetable and notification uploaded by faculty or admin.
₹4000 · Tirupati · Computer-Science
Project Abstract
This project is for CSE students based on web based application. The project is the web portal for Department which will increase communication between students and lecturers. This system is to make an online web portal for Department, using this application every one in the department can share information from lab assistants, students, lecturers …etc, students can easily communicate with teachers from anywhere. This application can be help full for departments to track each student status and update them to their parents on regular basis like results and attendance. This system could be accessed from any corner of the world on net.and also it contains login pages of faculty ,student and admin where admin can add and update both student and faculty details as well as bus info,notifications,library information,results,timetable,in this whole admin can control all modules where as faculty can add pdf format lecturer notes and timetable and also answers to student questions.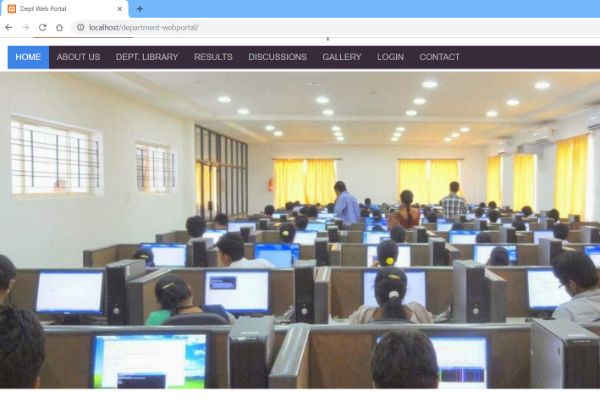 List of Deliverables
All modules are delivered whatever their in this project like:
Studentsinfo.php
Lecturesinfo.php
Results.php
Notification.php
Timetable.php
Businfo.php etc.
Tags
#PHP
#JAVASCRIPT
#CSS
#HTML
#Information Technology
#Computer Science