CrazyEngineers V4: Early Access
We are developing the next version of CrazyEngineers. If you wish to receive latest updates and early access, click the link below.
Home

>

Apps

>

Projects

>
Decoders and Encoders (DNE) in Visual C# and MySQL
Encrypts and decrypts files
₹200 · Sanaʽa · Information-Technology
Project Abstract
My project is a windows application program designed and developed in visual C# using Microsoft Visual Studio. Its main purpose is to give the user the ability to encrypt and decrypt any files they wish to keep secure.
Making use of MySQL database server, I implemented a login interface that allows to have multiple users on the same machine. Each user can see the files that is currently encrypted. 
The following rules apply:

1- Each user can't encrypt/decrypt an encrypted files of the other users.
2- A user can't encrypt any encrypted files.

An important note here is this project is currently using MySQL database that is created manually, I was intending to give the user a form after registration to choose the preferred database server in order to create and configure a new database for the program, this was intended as a one time thing when using the program for the first time, after that any new users will be added to the same database.

I should mention that there is a first verison of this program that didn't relied on any database, rather it creates a binary text file to store the information of the users, This file is encrypted as well.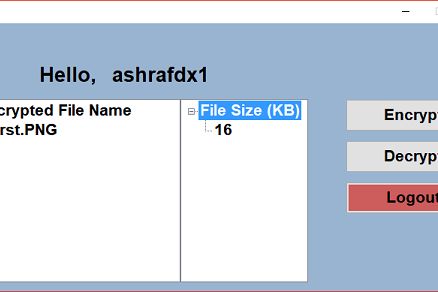 List of Deliverables
A visual studio project solution folders
Tags
#security
#c#
#encryption
#decryption
#windows
#application
#Information Technology
#Computer Science