CrazyEngineers V4: Early Access
We are developing the next version of CrazyEngineers. If you wish to receive latest updates and early access, click the link below.
Home

>

Apps

>

Projects

>
Bus Identification Device For Blind Using RFID, Arduino and Bluetooth Technology
We have built a bus detection system for blind by assigning different tags to different buses with the help of RFID technology and it gives voice announcements to the people in bus stop.
₹5000 · Hyderabad · Electronics-And-Communication
Project Abstract
The main purpose of the project is to provide a bus detection system for blind people by assigning different tags to different buses with the help of RFID (Radio Frequency Identification) technology.
Generally, journey in a bus is a safe and comfort factor, but due to increase in number of buses and passengers it's going to be tougher now a days and it will be more difficult for blind people to travel in bus so with this project, we made a system which can help blind people to find the bus at the bus stop as they can't see which bus is coming to bus stop. In this project we used Arduino, RFID reader and tags and Bluetooth for voice announcement with speaker as basic blocks.
Whenever the bus comes to the stop the RFID reader will be reading the tag (which is given to every bus for particular route) and depending upon the tag it will give voice intimation through speaker so that the blind person can know the bus number and related information about bus.
Keywords: Bus identification device, Blind people, RFID, Bus, Bus station, Voice message.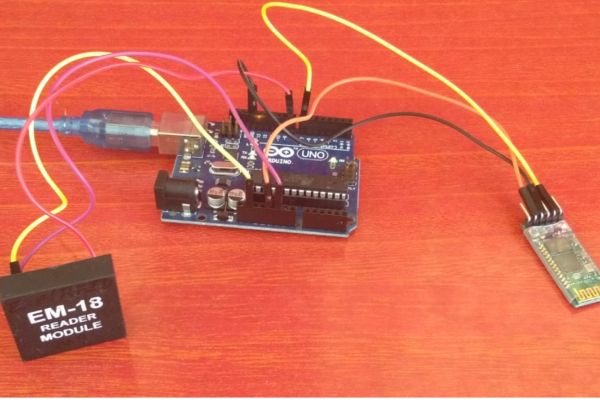 List of Deliverables
Abstract
Hardware
Program
Documentation
Presentation
Tags
#Electronics
#Arduino
#RFID