CrazyEngineers V4: Early Access
We are developing the next version of CrazyEngineers. If you wish to receive latest updates and early access, click the link below.
Home

>

Apps

>

Projects

>
Biped motion of humanoid robot
This humanoid robot can walk like humans and can measure the area of a given room.
₹4400 · Surat · Electronics-And-Communication
Project Abstract
A bipedal walking robot is a type of a humanoid robot which mimics like a human being and can be programmed to perform some task as required such as walking, running, hopping, etc. A Prototype biped robot is built to provide physical locomotion that is used to control the robot movement such as moving forward.
The project also describes how the bipedal robot is built, how the movement steps are obtained and how to measure area as well as distance. The movement of the robot can be controlled by using android application.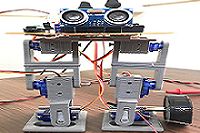 List of Deliverables
The whole project in working condition, Program, Report.
Tags
#Electronics
#robotics
#Humanoid robot
#human walk