CrazyEngineers V4: Early Access
We are developing the next version of CrazyEngineers. If you wish to receive latest updates and early access, click the link below.
Home

>

Apps

>

Projects

>
Automatic Detection and Notification of Potholes and Humps on Road
You will get Message Notifications of POTHOLES AND HUMPS Detected on Road with their Locations.
₹9999 · Hyderabad · Electronics-And-Communication
Project Abstract
One of the major problems in developing countries is maintenance of roads. Well maintained roads contribute a major portion to the country's economy. Identification of pavement distress such as potholes and humps not only helps drivers to avoid accidents or vehicle damages, but also helps authorities to maintain roads. 
This project discusses previous pothole detection methods that have been developed and proposes a cost-effective solution to identify the potholes and humps on roads and provide timely alerts to drivers to avoid accidents or vehicle damages. Ultrasonic sensors are used to identify the potholes and humps and also to measure their depth and height, respectively. 
The proposed system captures the geographical location coordinates of the potholes and humps using a global positioning system receiver. Alerts are given in the form of a flash messages with beep sound.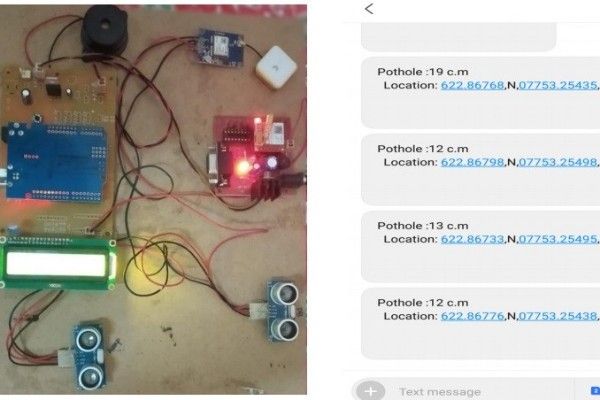 List of Deliverables
Complete Working project with  Documentation which includes all the content such as Introduction , Hardware Implementation , FIRMWARE Implementation. 
Complete Explanation and clarification of Doubt's.
Tags
#Embedded Systems
#Arduino
#Electronics and Communication
#Automation