CrazyEngineers V4: Early Access
We are developing the next version of CrazyEngineers. If you wish to receive latest updates and early access, click the link below.
Home

>

Apps

>

Projects

>
Agricultural Prediction Using Big Data Analytics
Development of a website where you can search for the crop name and you will get information like area cultivated, production in tonnes, crop versus minimum support price announced by government, fertilizers used etc.
₹1500 · Bangalore · Computer-Science
Project Abstract
Agriculture has been back bone for the Indian economy for many years. But in the past few years agriculture in India has lost its dominance. There are many reasons for the pitfall.
Considering the facts that industrial sector is providing better pay rate when compared to agriculture and also minimised govt. support. Farmers not being updated with new technologies is also a major concern. 
The project collects data from different resources. The collected data include information about different seasons, crops, area cultivated and production in tonnes. It also contains info about crop versus minimum support price announced by govt. and the fertilizers used.
Search for a crop name and you will get every single detail about it. This visualization helps in analysis and better understanding of Agriculture in India.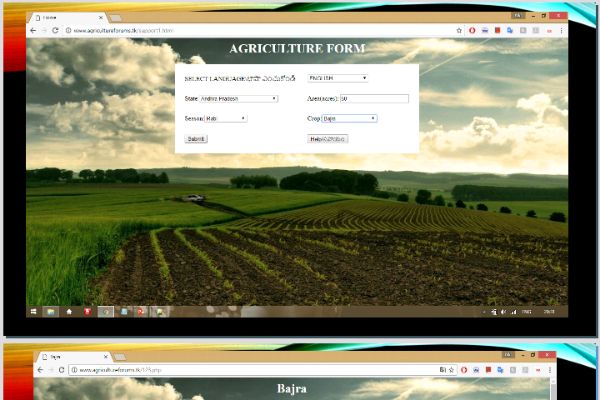 List of Deliverables
Complete Documentation of the project
An excel file of collected data (crops, seasons, price etc..)
The source code of the website developed.
Tags
#Java
#hadoop
#R-Studio
#Tableau
#sql
#hdfs
#big data
#Information Technology
#Computer Science
#Apache