CrazyEngineers V4: Early Access
We are developing the next version of CrazyEngineers. If you wish to receive latest updates and early access, click the link below.
Home

>

Apps

>

News

>
Yusaku Maezawa will be SpaceX's first tourist to the Moon in 2023
Yusaku Maezawa will travel to the Moon in SpaceX's Big Falcon Rocket in 2023. Elon Musk 'might' join him as a co-passenger.
Elon Musk's SpaceX has found their first big budget tourist to the moon and back in Yasaku Maezawa. Maezawa is the 18th richest person in Japan and has made his fortune in the fashion industry. 
Maezawa's Moon trip is scheduled somewhere in 2023 as SpaceX gets its rockets ready. The 42 year billionaire will be the first traveler to the moon since the United States last manned mission back in 1972. 
SpaceX announced their first passenger via following tweet -
Hanging out with @yousuck2020 before the @SpaceX moon mission announcement pic.twitter.com/RTOwutzMtG

— Elon Musk (@elonmusk) September 18, 2018
SpaceX did not reveal how much money did Maezaw had to pay to realise his childhood dream. He spoke to the media at the SpaceX rocket factory in Hawthorne, California. 
He further said that he's going to invite about six to eight artists from all over the world join his mission to the Moon. These artists will be asked to create something after the trip. He expects that these masterpieces will inspire the dreamers in us.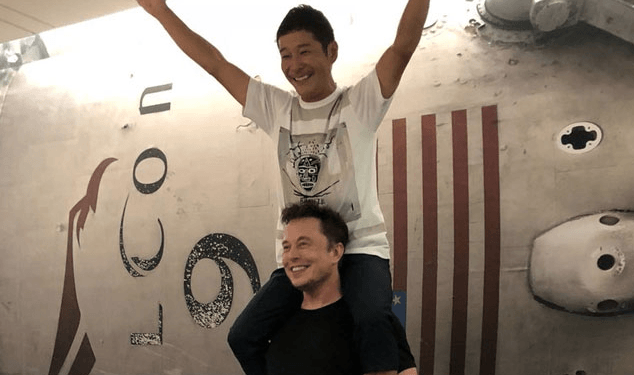 Of course, the trip will be all expenses paid for the artists. 
Elon Musk looked enthusiastic and excited at the event. Musk said Maezawa is the bravest and the best adventurer and he's glad that he chose SpaceX for the mission. 
Maezawa isn't the first tourist to the space. Dennis Tito, an American businessman was the first one to go to the International Space Station as a tourist back in 2001. He had to shell out a hefty sum of $20 million. 
Musk further said that this mission isn't a walk in the park and is dangerous. There's always a chance that 'something will go wrong'. 
When the reporters asked Musk if he considered being a co-passenger, he did not rule out the possibility. 
Maezawal and other passengers will be put into the deep space using SpaceX's big Falcon Rocket. The rocket isn't yet ready for the human space flight yet and work is on. It's expected that the Falcon will attempt at a test flight to Mars in 2022 and a manned mission to Mars by 2024.
We wish Yusaku Maezawa all the best and hope for his safe return back to the Earth.
About Author
Kaustubh Katdare is passionate about all things engineering, technology, science and business.