Home

>

Apps

>

News

>
Lung-on-a-chip device to help drug testers verify new drugs for pulmonary fibrosis
Scientists have managed to create an artificial lung tissue based device to support drug testing for pulmonary fibrosis.
In 2018, scientists do not use lab rats anymore. Instead, they choose to maintain their humanity and prefer a prototype platform where they can investigate with all the unverified formulas they prepare to launch in the near future. And choosing a prototype in case of medicinal testing is tougher than it sounds, offering prospects for research in this area. Conventionally, pulmonary fibrosis used to give researchers and drug testers a hard time since such a prototype for lung was rare which could successfully mimic how the disease damaged the lung tissues over time. Solution? Super time-consuming and expensive alternatives that could not judge the effectiveness of the drugs.

Scientists at the University at Buffalo has recently published a research that promises a better cure to this problem. They have developed a lung-on-a-chip device using the same technology that was used to curate electronic chips for photolithography. However, the semiconducting materials of the chip were replaced with arrays of thin and flexible lab-grown lung tissues. Ruogang Zhao, assistant professor in the Department of Biomedical Engineering at the University at Buffalo assures that even though it's not the entire lung but the small chip can do wonders in assessing drug's effect on the lung disease.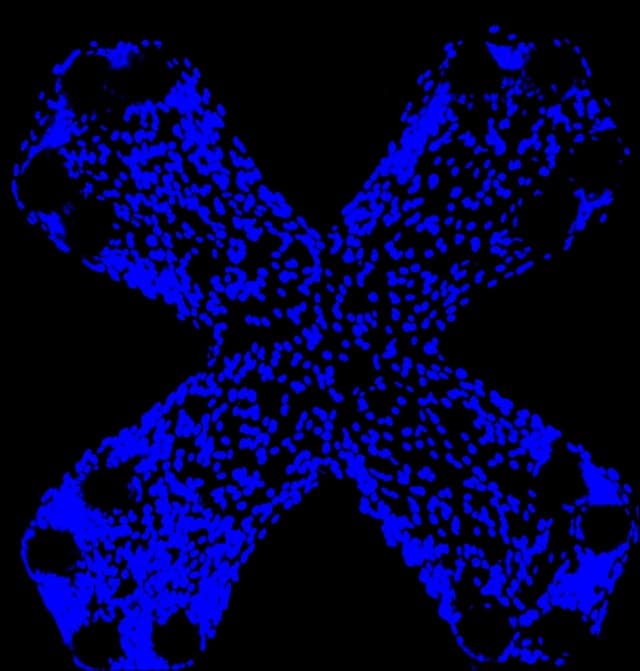 Nucleus from a healthy engineered lung tissue
 Currently, there are only two approved drugs for pulmonary fibrosis namely pirfenidone and nintedanib but both of them can treat only one type of fibrosis known as the idiopathic pulmonary fibrosis, one of the 200 types of fibrosis as per the American Lung Association. Moreover, this disease can adversely affect other important organs such heart, liver, and kidney.

Until now, there were no such tools available that could replicate the progression of lung fibrosis over time. Thanks to Zhao's research team, together with the University of Toronto, they created silicon-based organic polymer pillars with the help of existing microlithography technology. After that, they attached a tissue that acts like alveoli ( air-sacs that helps in consuming oxygen) on the surface of the pillar.

Further, the team then injects a protein that artificially creates fibrosis, transforming the healthy tissues to diseased ones by introducing contraction and stiffening of the engineered lung tissues. The tissue contraction slowly bends the pillars, calculating the tissue contraction force. After successfully checking with pirfenidone and nintedanib, the team concluded, soon, their research will be able to better serve the drug testing process. The research has been published in the Nature Communication journal.
Source: University at Buffalo
About Author

Debasmita Banerjee is an open source fan and a coffee addict. She loves to write about AI, Mathematics and Non-Linear Dynamics.