CrazyEngineers V4: Early Access
We are developing the next version of CrazyEngineers. If you wish to receive latest updates and early access, click the link below.
Home

>

Apps

>

News

>
Deep Space Survival Technologies for Spaceships
NASA lists five technologies required by spacecrafts to survive the harsh deep space environment
The deep space is a very unforgiving environment. When spaceships carrying humans venture into the unknown, the reliability of on-board systems matters the most. NASA has put up a list of five technologies that spaceships must have in order to survive in the deep space.
NASAs engineers have been busy working on Orion, their latest deep-space multi-purpose crew vehicle (MPCV). While Orion is still years away from carrying the first team of astronauts into space, NASA's making sure Orion delivers on all the five systems listed below.
I. Systems to Live and Breathe
The spaceship must be able to keep the crew alive by providing advanced life-support systems. Such systems will remove the CO2 and humidity from inside the spacecraft. 
It helps prevent condensation of water on electronic instruments on-board. 
II. Propulsion Systems
It's no brainer that the propulsion systems are critical for deep space missions. Orion has been equipped with 33 engines of various size capable of taking astronauts to the moon and back.
The spacecraft can hold about 2000 gallons of propellant along with backup in case of emergencies.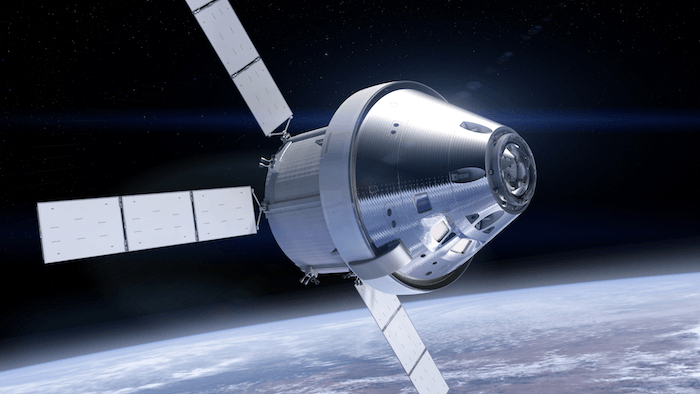 III. Thermal Shield
Spacecraft must be able to withstand heat twice as hot as molten lava or half as hot as the Sun. This is because the farther the spacecraft moves into deep-space, the faster will be its re-entry into earth's atmosphere.
Orion will endure speeds up to 30 times the speed of sound when it re-enters the atmosphere. 
Note that it won't just have to endure the high temperatures. The temperature variation will be from -150°F to 550°F. 
IV: Radiation Protection Shield
NASA informs that Orion has been built to protect the astronauts from harsh radiation in the deep space. In the event of solar radiation event, NASA plans to shield the crew using shelter created using onboard materials. 
The spacecraft will be equipped with multiple sensors that will help analyse the nature of radiation it's being exposed to.
Orion is also equipped with four identical computers that are self-checking. In addition, there's a separate backup computer that makes sure that Orion can keep sending signals back to the ground control room in case of emergencies.
V. Communication and Navigation Systems
The spacecraft will have to be able to constantly communicate with the mission control room in Houston. The spacecraft will communicate through NASA's Deep Space Network - which is an array of radars located at various locations on Earth. 
Of course, it's equipped with a backup communication systems in case the primary contact system fails. 
An advanced navigation system, called "Optical Navigation" has been developed that takes photos of the Earth, Moon, Stars and figures out the relative location of the spacecraft. 
For further information on these systems, head over to NASA's official article available in source below.
Source: NASA
About Author
Kaustubh Katdare is passionate about all things engineering, technology, science and business.