Home

>

Apps

>

News

>
AADHAR Helpline Number, Google, TRAI and All About Your Privacy
It was Google's mistake to push that number into your contact list. The said number is outdated and invalid. Nothing to worry about.
Indian social media is abuzz with a 'mysterious' phone number appearing in the contact list. The said number is 1800 300 1947, and it carried name UIDAI aka Unique Identification Authority of India. The 'so called' experts on the social media declared that it was government trying to hack into their phones. 
After the big outrage, Google had to intervene to declare that it was their mistake to push the AADHAR number into people's contact list. 
Majority of Android phones were injected with not one, but two phone numbers by the Android's setup wizard. These numbers are 112 - the pan-India distress helpline number and second one the 'AADHAR' number.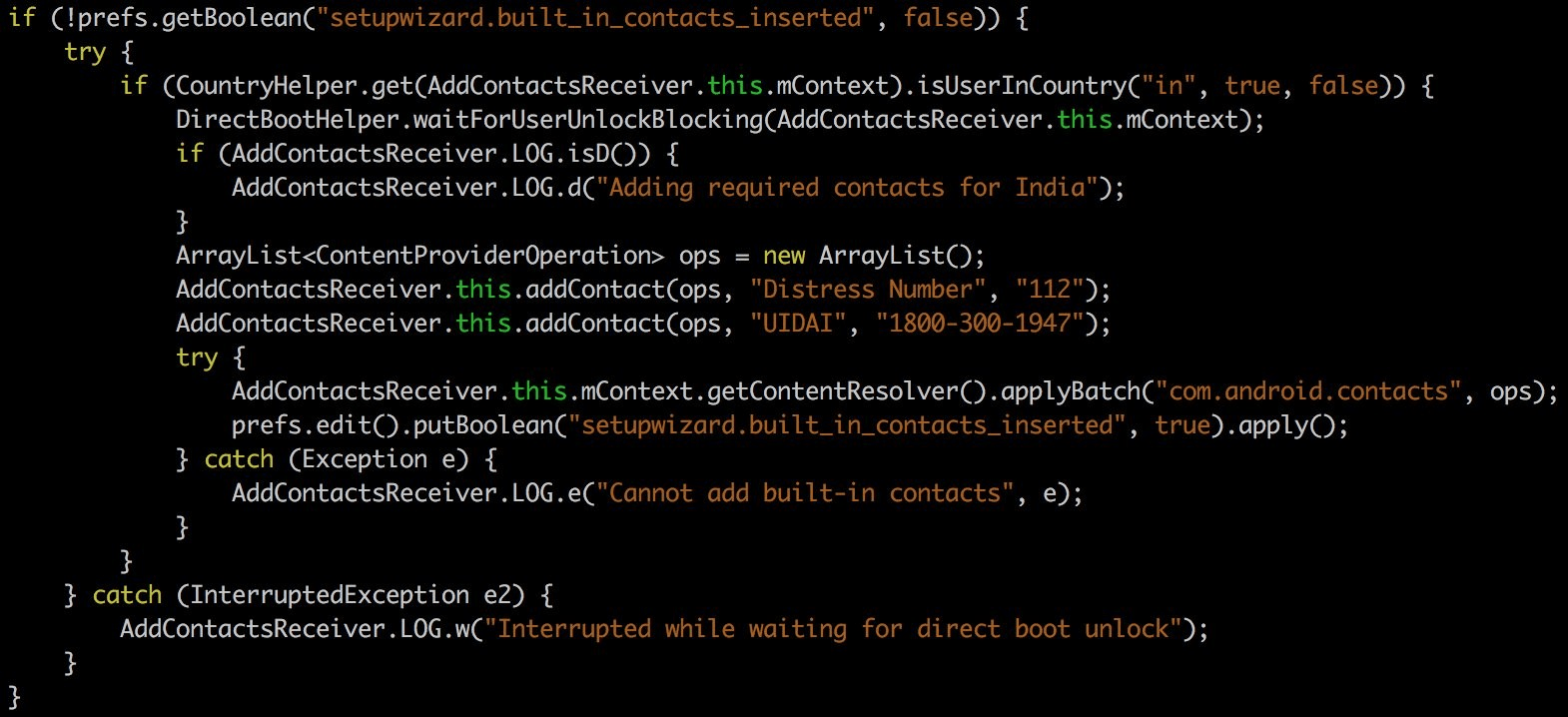 Code snippet from Android shows how the phone numbers got added to contact list. Credit: Elliot Alderson (French Security Researcher)
UIDAI informed the media that they had not asked Google or any other telecom service providers to add AADHAR number to people's contact list. In fact, the said AADHAR number is outdated. 
"1800-300-1947 is invalid and outdated" - TRAI
 The current valid UIDAI toll free number is 1947 - the number that's also the year that India got Independence. 
Meanwhile, Maharashtra's Cyber Cell has advised all the users with the mysterious UIDAI number on the phones to delete it. 
Amidst all the furore on the social media and television, people began questioning whether UIDAI was breaching their privacy. 
Twitterati noticed that the recommendation for having 112 distress number was proposed in April 2015; and it was made functional only in 2017. 
It's however important to note that 112 is a global emergency number and it can be dialled from most of the telephones in the world. The phone number is a part of GSM standard.
Let us know your opinion on this discussion: 
Did your phone get UIDAI phone number 1800 300 1947 automatically added to contact list? Is that a problem?
About Author
Kaustubh Katdare is passionate about all things engineering, technology, science and business.