CrazyEngineers V4: Early Access
We are developing the next version of CrazyEngineers. If you wish to receive latest updates and early access, click the link below.
Home

>

Apps

>
Know Your CEan - Er. Naveen Sunil
Know Your CEan Naveen Sunil

CrazyEngineers Staff
Team KYCEan
It wouldn't be wrong to call Naveen, a final year student of Bachelors in IT and Cyber Security at Hindustan Institute of Technology and Science, a Cyber Security enthusiast. Teaming with his friends, Naveen founded the Kruptos Security Club which engages students in Cyber Security education, competition, and projects.
Not only does he work on projects related to this domain, Naveen is also keen about teaching people about underlying technology. Naveen is also a proud Developer Student Clubs Lead of his University which is a program by Google Developers.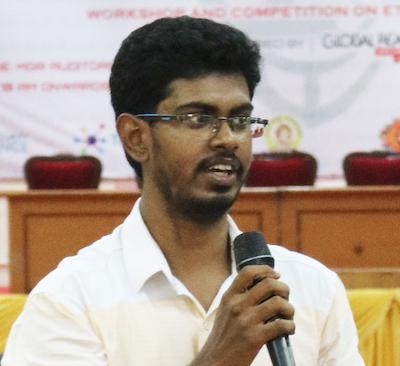 Presenting CEan Naveen Sunil in our one-on-one chat with him -
CE: Where and when did you first hear about CE and what prompted you to join the community?
Naveen: I came to know about CE back in 2017 through a random Google search for online engineering communities. Some amazing resources were there and I felt welcomed. CE was different then from what it is now. I've seen it grow. It's an amazing platform now!
CE: What is the one thing that you are truly passionate about?
Naveen: I have been very passionate about Cyber Security. Definitely not because of that hacker stuff. It is essential and everyone needs to know about it. The world is changing and without Cyber Security you'll be lost. In fact, we all need it, our nation needs it and the world needs it.
CE: What are the extracurricular activities that interest you the most?
Naveen: I play guitar and enjoy music. I love to explore, travel and get lost. There is always a life apart from the regular chores and activities. That gives me the energy and adds meaning to what I do.
CE: If you had 24 hours to live, how would you spend those hours?
Naveen: I'd definitely take those time to spend time with my family, which is my first priority always!
CE: At times life makes you face rough times. What is your philosophy/strategy to come out of these tough times?
Naveen: Keep calm, face them, don't complain about them. Time flies by and tough times fade away, keeping something good for you at the end! Smile at the hurdles and they will smile back too! This is what I believe and follow.
CE: If you had the chance to go back in time and change one thing, what would you change?
Naveen: It would be tough to change something if I had the chance as I don't think changing something which I did would never have made me what I am today. My confidence, courage, leadership, and skills are because of the mistakes and the hard times I went through. I prefer not to change anything.
CE: If you were a millionaire for a day, what are the things that you would love to do?
Naveen: Take what I need and give that in good hands which I believe is the Government who could shape our country for good.
CE:. What is the biggest asset of your life?
Naveen: My parents. Without them, I would not have come up to here and wouldn't have seen the future. They are the people who supported me emotionally, financially, mentally and in all ways, the world knows.
CE: What is your favourite part about the CrazyEngineers platform?
Naveen: That is a bit of tricky to answer, but I love the "Groups" feature. Right from the time, it was launched and till now, it just got better over time. It's a better place to share knowledge.
CE: What do you think about a dystopian future where robots have taken over the world?
Naveen: I believe that Earth is meant for living creatures. If such a future would happen, then I could imagine situations similar to the movie "I, Robot"
CE: What does success mean to you?
Naveen: Success is when my expected outcome of work becomes fully true and not measured by time, size, fame or money. It is when I can confidently say, "Yes, I did it!".
Quick, 5 Rapid Fire Questions
CE: What is one food you wouldn't want to give up?
Naveen: My Mom's Dosa and chutney! <3
CE: If you were a superhero, what would your superpowers be?
Naveen: Ability to fly! I could still think like a kid!
CE: What was your favourite book growing up?
Naveen: I honestly never had the habit of reading books, but one book that definitely got me interested and inspired is, "Wings of Fire" by Dr. A P J Abdul Kalam
CE: If you could be any nationality what would it be and why?
Naveen: I wish it would be Australia. It's a very peaceful place and splendid geographical diversity. It's a country worth visiting.
CE: What is the one thing you have always wanted to do? Why haven't you done it?
Naveen: I want to travel to different places. I haven't done this yet because I am not financially backed for this adventure. So, I'm waiting for that day!