CrazyEngineers V4: Early Access
We are developing the next version of CrazyEngineers. If you wish to receive latest updates and early access, click the link below.
Home

>

Apps

>
Know Your CEan - Er. Kavya Burramolla
Know Your CEan - Kavya Burramolla

CrazyEngineers Staff
Team KYCEan
An Electronics and Communication engineering graduate of the year 2018, Kavya Burramolla joined CrazyEngineers in January 2018 and has been steadily enriching the community with valuable answers and engaging questions. In this interview, we get to know how Kavya is like in real life. Read on!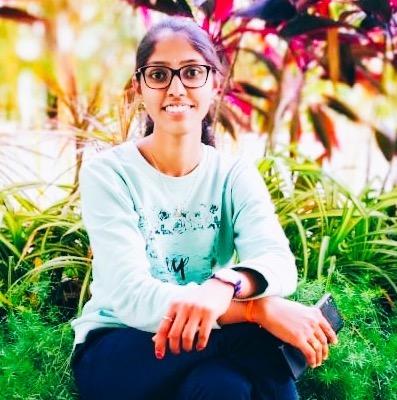 CE: Tell us all about yourself, your interests and what you love.
Kavya: Hi all!!! I am Kavya from Hyderabad, an Electronics and Communication Engineer passed out in 2018 and worked for Bombardier Transportations India Private Limited for last one year as Support PdM and currently working as a Project Design Coordinator.
I am a girl with full of passion towards life. I wanna make my life so memorable that I've a story each day to share with my grandkids. I am selenophile (moon lover). Hanging out with friends, Spending time with my best people (Parents) is what makes my weekend. 
I love to see people around me smile not once but always. I've a gang of five best friends and they are the reason why I am this crazy and sometimes weird too. I find best people wherever I go and I am very much thankful to God for this beautiful life. 
CE: What do you think about your life so far?
Kavya: In one word if I'd describe my life it would be AmazingEscapade. I believe life is trying to show me some adventures and exciting things that are not on my plan. It was always the way like I was busy making some plans and then life showed be something else. But then every situation and every phase of life taught me something that I remember for lifetime. I'd thank my five people for all time being with me, they makes my life complete. 
CE: If your life was a movie, what would its title be?

Kavya:  If my life is a movie I'd title it as "Messy Me".
CE: When did you decide you wanted to be an engineer? Why did you choose electronics field?
Kavya: I never had a dream of becoming an Engineer. I was passionate about doing Cardialogy and become a Doctor by Profession. But then as like most of the Indian parents, when the elder one in the family is an engineer the younger one should also opt to be an engineer, reason being - "Elder one will guide you and can help you in all aspects of Engineering". 
With no other options left in hand I choose Engineering. Again a question: What branch in Engineering? My parents wanted me to choose Mechanical because my brother is from that background. And I decided to choose anything other than Mechanical. 
Finally landed up into Electronics and Communication Engineering. With zero knowledge in the choosen stream started my career in VNR VJIET and that was the turning point of my career, now I am in a stage I can guide somebody and I feel proud to be an Engineer specifically from Electronics background.
CE: Where and when did you first hear about CrazyEngineers and what prompted you to join the community? What is now your favorite part of CrazyEngineers?
Kavya: I don't exactly remember the question but that was the doubt I've been searching for more than a hour. Then I just found a link with an interesting page name called "CrazyEngineers" which helped me to get my doubt clarified. The name "CrazyEngineers" is what prompted me to join the community. I actually wanted to know what exactly it is. 
I joined the community and found some interesting things about it. There are many  interesting features of CE like A2A, Search for specific content or question, Leaderboard, Quiz, and out of all, favorite part for me is "Mark as Best Reply". Marking a reply post as best reply can help the reader for better understanding without conflict of confusion as there will be multiple opinions for a topic. 
CE: What do you think is the best thing about your native language Telugu and your culture?
Kavya: One best thing about my native language Telugu is ease of understanding and learning. Telugu has been voted as the second best script in the world by International Alphabet Association. I love the festivals, Pilgrimage places, Food in Telangana. The tradition of celebrating each festival at different regions of Telangana mostly remains unique. 
CE: If you had to be reborn as an animal, which animal would you want to be and why?
Kavya: I want to be a Fallow Deer reason being its nature and beautiful look. I love seeing deers move from here and there. Even now most of my friends comment me as a Deer for not being able to stand at one place for longer time. 
CE: What are your thoughts about technology becoming a part and parcel of life?
Kavya: I don't dare imagining my life without Technology. I think technology made my life easy not only in terms of advancements, gadgets but also communication these days has became very easy. We are in a phase of technology where everything that happens around the world can be known to everyone in faster rate. In short technolodgy is one reason why am doing this today. 
CE: If you met your favorite celebrity in a lift for 5 minutes, what would you say to them?
Kavya: I'd stare at him for the first 30 seconds thinking that if it could be a dream. With all my courage talk to him in normal way and entreat to help the Orphanage that I am associated with. Later I'd ask for a Photograph and Autograph just to upload on Social Media and make some fun stuff.
CE: What is your ultimate dream in life?
Kavya: Taking my parents to World trip with all expenses from my pocket remains my ultimate dream in life.
CE: Whom do you trust the most in your life and why?
Kavya: I trust myself the most. Decisions taken by me even if resulting in negative will make me satisfied that I have made it. I learn more from myself considering me yesterday than somebody today. I have some regrets, Happy & Sad memories but whatever it is I am with me and I love myself for being it.
CE: If you could be any superhero who would you be and why?
Kavya: I'd love to be a female version of Superman. That's really crazy to fly, lifting building and all. Most important Superman can handle almost everything thrown at him. So, me as Superman abet the Indian Army forces in saving peoples lives.

CE: What ridiculous thing has someone tricked you into doing or believing?
Kavya: I think there are many. But one ridiculous thing was, one of my dearest friend who stay in Delhi called me at 6 AM in the morning which was very early for me those days. All of a sudden she called for saying that she is in Hyderabad on a office work, will be there for one day and she wants to meet me. With no other plans for the day I decided to meet her and that was the first meeting for us as we were Facebook friends in touch for almost 1 year. 
With little excitement I told my mom to prepare something for the guest and made everything ready. At 9 AM I received a call again from the same lady saying that she is nearby my place and asked me to share the exact location, I've shared and she acknowledged me that she is 10 minutes away from my home and hang up the call. I was even more excited to see her and came out of house expecting her arrival anytime. After 10 minutes of wait my phone rang and it was she saying that she is almost there at the street end and waiting for someone to come and take home. I went out and was unable to see her at the street end. I thought she might have lost somewhere in between.
I called her back to know where exactly she is, and asked her for some landmarks and she replied me saying "HAPPY FOOLS DAY" idiot. I was almost about to kill her for doing this but then I was also angry on me how could I forget that its April 1st. That was a memorable incident and was tricked by Sirisha(Girl from Delhi).
CE: What's the most interesting thing you've read or seen this week?
Kavya: One post on LinkedIn by NASA found very interesting. And the post stated Airborne Nitrogen Dioxide Plummets Over China. Pollution monitoring satellites have detected significant decreases in nitrogen dioxide over China. There is evidence that the change is at least partly related to the economic slowdown following the outbreak of coronavirus. I found it bit interesting to know how does Economy slowdown because of Virus.
CE: What is the one thing you are most obsessed about?
Kavya: Food is one thing that I am very much Obsessed about. I don't hesitate to say and agree myself as a Foodie. I love making and tasting different dishes. I always prepare something special for myself whenever I find some free time. I eat when am happy, when am sad, when am sleepy, when am nervous and every time.
CE: Whom do you consider your best friend in life?
Kavya: My Mom, Dad and my Fabulous Five. I know those are the only ones who can bear me for lifetime.
CE: Do you believe In life having a purpose? Do you have one?
Kavya: Yes, I do believe in purpose of life right from the moment I was considered as a helping part of an Orphanage. Seeing people suffering and their pain changed my way of thinking about life. My problems seemed like a drop of water in an ocean and that was the turning point of my life. I decided to help people in sorting out their problems to some extent and I am very much in to it. I will be very thankful to God for giving me all the strength for supporting people in need.