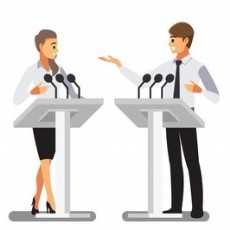 Debate Masters
Debate on various topics with fellow members. Any topic, any opinion is welcome.
73 Members
Join this group to post and comment.
Welcome to debate masters group!
I think we've lot of members who'd be interested in debating on various topics so that they can hear various views and opinions. Let's build greatest debates on the planet. 
What kind of debates would you like to see in this group?

Glad to hear about this new group.I would like to participate because most of the knowledge comes when we discuss it with other people.Debating others makes us learn more about our points.
Right, @AdhikariHarika Reshma . By expressing views and listening to other's views, we not only improve our view of the world but also open our mind. Participating here will also help improve participant's command over the language and I'm sure it will help in campus recruitments and in jobs as well. I hope we see more participation from fellow engineers here.