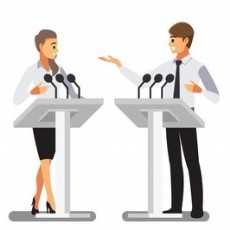 Debate Masters
Debate on various topics with fellow members. Any topic, any opinion is welcome.
64 Members
Join this group to post and comment.
Social Media - Boon or Bane?
Social Media has influenced our lives unlike anything in the past. Almost everyone is hooked to either one of the other social media. According to some we check our mobile at least 80 - 120 times every day - just to see if we have any pending notification. 
There are of course several advantages of Social Media. First - it connects us 'digitally' to our friends and relatives who are faraway from us, in another city or country. 
Second, it helps us keep up to date with what's happening around us. 
On the other hand, the media is uncontrolled and everyone is getting information about everything! This is leading to depression, divorses, breakups and broken friendship.
What is your take on social media - is it a boon or a bane?

a boon when effectively used, but, people want problems. actually people cant live without problems. depression, divorces, break ups all these people create themselves and blame social media. people never accept their own faults instead keep blaming things. social media is such a powerful tool where we can express our ideas, spread happiness, expand our business,make friends and what not. it gives us the belief that the world is listening amd we are free to express our ideas. instead people waste their time. if zuckerberg would have spent his time chatting with his friends on Facebook everyday, it would never have succeeded. when you where busy posting a selfie eating in a famous restaurant zuckerberg was working hard on how he can keep Facebook updated.this is just for instance. i say that social media has made our work easy, utilise it effectively and you will rule the world.

According  to me its obviously a boon because  it helps us in getting together.Helps us in talking with our people who are at a distance.And day by day the updates these social media apps are doing is making is even look at our relatives who are far away from us.For example if we see the whatsapp feature today it is providing us  group video call by which we can see all our near ones at a time without even travelling a  long distance.Also if we talk about Facebook , it helps in various ways,let us meet new people ,helps in knowing new technologies also makes us know more about the education wise and employment etc.
But there are people who mislead the uses the social media gives us.They use them in a wrong way by keeping others in troubles.Also if we use them in continuously  for longer time it's not a correct way because they should not be  a part of our life.We have to spend our time with our family,friends  and relatives.
Knowledge wise and talking to others it is boon but coming to the other side it is a bane.People are addicted to the social media in such a way that previously people used to chit chat by sitting at one place and spend time with family but though they are side by side they even chat in phones.Every thing has a boon or bane it depends on how we use them in a good way.