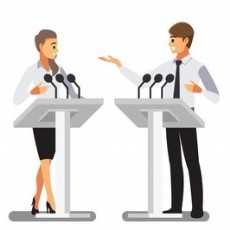 Debate Masters
Debate on various topics with fellow members. Any topic, any opinion is welcome.
68 Members
Join this group to post and comment.
Short form content or long form content - Which makes your blog readable?
In this fast paced era, people hardly spend time reading long articles. hence i believe short and precise content makes your blog more readable. but also long form content makes your blog visible because of the keywords used.
do let me know your opinions.

The habit of reading is being replaced by habit of viewing. As watching videos becomes cheaper and more enjoyable with mobile devices, reading long blogs has taken a backseat. Most of the new content now is being created in the form of videos.
However, for Google and other search engines, it's still the TEXT that rules. That is because search engineers are engineered to make sense of the characters. The engines are yet to become smart enough make the sense out of videos. But in few year's time, computing power will be enough to process all the lengthy videos and make them search ready.
Completely agree with Mohit. Video is the new king. People hardly read these days. But there are several things that are better expressed in text.
Even the social media is slowly migrating towards videos. The comments and status updates will all be videos, I believe. Maybe even such replies will be posted via vidos; what say? :)
yes i agree with you both...but to climb the ladder of search engine its the keywords that play a crucial role in today's era..how can we include that in videos? if it is in the form of short content, how can we include all the keywords in the same?