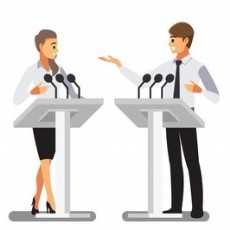 Debate Masters
Debate on various topics with fellow members. Any topic, any opinion is welcome.
68 Members
Join this group to post and comment.

Is it necessary to love your job or anything would work fine because money matters?
i have seen many of my friends settling for a job they dont like because they are getting a good pay, no matter what the struggle is. but i believe that we should only do what we love because life's short. And when you love your job even the struggle seems easy. what do you say?
Such an interesting topic @Rumesha Sk I sincerely believe the story is different for every individual.
In an ideal scenario, people would wake up and go to their workplace because that's what they *love* to do.
But the reality is that, people are dragging themselves to their jobs and waiting for the clock to strike 7 pm to go home and repeat the same lifestyle the next day. It's the hard reality and it sucks.
The good news is people can take matters in their own hands and make a conscious decision to change. Being stuck in a job that does or doesn't pay well sometimes is an obligation for some because they have a family to take care of. However, that might not be true for all. 
If you are willing to chase your dreams and pay the price by say - living meagrely, spending on bare minimums and ready to work tirelessly for something you are passionate about - I believe wonders can happen! 😊 
If you are going to be doing a job anyways, it's better to start loving it. It's a matter of choice, I think.