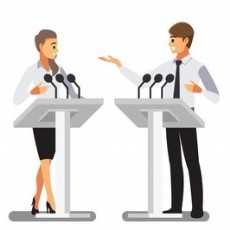 Debate Masters
Debate on various topics with fellow members. Any topic, any opinion is welcome.
72 Members
Join this group to post and comment.
I was born intelligent, education ruined me - agree / disagree?
It's a famous saying "I was born intelligent, but education ruined me". Let's see if you agree or disagree. Please post your thoughts in detail so that we have points on either side of the argument. 
I personally believe that it's because of the 'formal education system' that many people have began believing that the 'education system' has destroyed their intelligence and made them into robots that are specialised to do some specific kind of work. 
For example, I got formal education in Electrical engineering; but I know very little about the medicine or health. The same is true; when I see a lot of doctors struggle with the most basic operations on computer. 
What do you say? Did education ruin you? 

yes it has, to some extent. for example, in my college, we were given a limited coding programs to execute. when i wanted to go into further depth, i was asked to first concentrate on the programs that were given. another example is, i used to understand the topic and attempt my exam with an answer to the point with my own words. but then i realised that, those who byhearted the textbook scored more than my grades. this made me byheart and helped me score good grades which are of no use now. our education system is limited to the syllabus which definitely affects intelligence. instead of beating up students mentally to score good grades they should be encouraged to explore more than what they study.to go into the depth. do things by themselves.education+ intelligence will rock .
.

I beg to differ.
 I graduated as a Chemical Engineer. There is hardly a branch of engineering (with the possible exclusion of IT) that I have not actively worked on in the sixty years that I have been working. Medical Engineering was one of the longest and continuing area of work.
The highly interactive institutions that I have been associated with, starting with the sprawling Andhra University Campus at Waltair, certainly helped. Formal engineering education in the fifties was for more knowledge based, and hands on than the sort of rote learning seen nowadays.