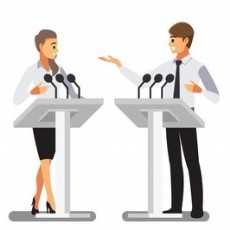 Debate Masters
Debate on various topics with fellow members. Any topic, any opinion is welcome.
68 Members
Join this group to post and comment.
Demonetisation in India - Success or Failure?
It's more than 1 and half year since Prime minister annouced banning of 500 and 1000 rupee notes from use. It affects almost all parts of society . 
And now everyone is willing to know the effect of this masterstroke. 
What in your opinion is actually demonetization effect? Does it helping or hurting the current society.

It definitly damaged the economy. Banning 1000Rs and adding 2000Rs notes meaning... Eliminating 100% of corruption and encouraging 200% of corruption.. 
I've updated the topic to wide the scope of the debate. I think the government knew that the effects of demonetisation will last a few years. I think they were prepared to take the negatives associated with it. 
I think there were several 'major' goals of the demonetisation, which were bigger than eradicating the black money. Black money can't be taken out like that; and everyone knows this. 
Counterfeit Currency Notes
I think the main purpose, that's often overlooked was to get rid of the counterfeit currency; which I believe was done. You cannot really measure the amount of money that got siphoned out from the economy by this bold move.  
Economic Growth Status
Contrary to the belief that demonetisation will permanently damage the economy, the numbers tell us a different story. The economic survey indicate that the Indian economy is expected to grow at ~7.5% compared to ~6.7% in the last fiscal year. 
Digital (Cashless) Economy Push
I'd not have imagined my local fruit seller actually using his mobile phone to accept payments and my local grocery shop owner actually accepting credit and debit cards. 
It's been years I've been asking him to accept credit / debit cards; but now he does. 
Even though it could have been bit difficult for several people to adopt digital economy and digital payments, I think the convenience benefits everyone. I can now pay quickly and without having to look around for '1 rupee' or '2 rupee' change. 
Overall, my opinion is that demonetisation might have failed in its 'perceived' goal, but in the long term, it's going to be seen as 'successful'. 
I'm tagging @Piyush Lalwani to express his views.