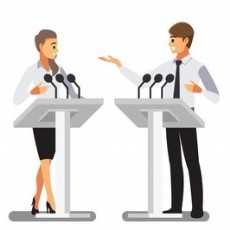 Debate Masters
Debate on various topics with fellow members. Any topic, any opinion is welcome.
68 Members
Join this group to post and comment.
Are Engineering Degrees Losing Their Worth?
The context of this debate topic is that IT big heads like Microsoft, Google and Apple have removed the criteria of engineering degree for recruitments in their technical roles. The new standard is - if you can demonstrate your skill - you are qualified. 
I'm wondering if engineering degrees are losing their worth. 
In countries like India, the engineering degree, in almost 50-70% of the colleges is for the namesake. I've had chance of interviewing candidates all over India - and it pains me to see that most of them aren't even able to explain the basic concepts in Engineering and science which they've learned recently. Yet, most of them would get a "Bachelor of Engineering" or "Bachelor of Technology" degree in a few months. 
What is your opinion on engineering degrees? Are they losing their worth in the modern times? Or is it the opposite? Share your thoughts below. 

no doubt engineering degrees are losing their worth. because most of the companies ask for a certification of some extra course other than engineering. this way a b.com graduate can also learn programming and apply for a software role. i have seen more than 50% of my collegemates struggling to join tge courses when they were supposed to work. why spending so much for a engineering degree when we can just get a certification. many engineering graduates have settled for a bpo for these reasons. some dont have money to spend on courses and some dont want to spend on courses because they would have worked hard for engineering degree. and also another reason is, engineering colleges have become so common these days that not only degree but candidates also have lost their respect.

Yeah of course engineering degrees are losing their worth because no longer a company is hiring only  those candidates who are an expert in one language it is something beyond ,the companies are looking in freshers. So students to be placed in a company either they are dreaming of or for any other company they should be updated with the technologies day by day.Previously doing engineering is a big thing to people but now it is just like studying nursery the value to this degree is slowly vanishing.And also if we have less percentage it is another issue of losing it's value because with that less percentage any company wont even consider our application.With higher percentages too we cannot survive because they want us to have an internship and also should be experts in 4-5 languages with these we should also have certifications.If we are taking coaching outside after completing our btech then what is the worth of doing engineering.

Of course not! If anyone thinks that engineering degrees are losing their worth then look at other degrees in arts and science. Even today engineering degree is sufficient for you to be eligible for several jobs. 
The bad thing is that in India, engineering education is going to gutter level. Half the engineers I interview have barely written their own resume. 
Engineering degrees are valued by lot of industries because it forms the basis of first step of elimination in any recruitment. 
Correct as @Mohit Patil   said, engineering degrees are not losing their worth but its bachelors tag which is. Just doing plain Bachelors in Engineering or any other stream does not help nowadays to get you a good stable job you need to have masters in everything.
@Kaustubh Katdare , you are quite right that current engineering degree holders are blissfully unaware of the basics of science and engineering. The Karnataka government arranged a placement event in Bangalore for engineering graduates from the rural areas.
No one turned up. 
When the New Indian Express investigated, the students said that they were not confident of handling the interview because of lack of English. If that itself was an issue how much knowledge would they have picked up from their courses, which were in the English medium?
The run of the mill graduates are way below par.
They are no less intelligent than students of any other period.
I blame the abysmal quality of teaching. I found many teachers, who were sadly lacking in basics of what they were to teach.
Too much interference from politicians, many of whom run engineering colleges as a lucrative business starting with capitation fees.
Dismal situation.
@Ramani Aswath sir, English is an unnecessary obstacle in Indian education. I think with all the AI and real-time translators, we can quickly have all the existing, latest tech made available in native languages. 
My opinion is that if the Chinese, Japanese, Germans and Israelis can do it without relying on English, why can't we?
While I agree in general, the problem is that we are not a single lingual nation. Even for normal living we have issues across the country.
I am nominally a Tamilian. I couldn't understand most of the technical words (even things like computers, bus, van ) that the Tamilnadu government uses in public places. Even the mandatory warnings put up in factories in the local language are ununderstandable, especially to the not much educated target workers.
My wife and I were involved in setting up the science lab in college in a tribal area of Karnataka. We tried showing some experiments to the students. We liberally used commonly understood  English terms with the bulk explanation in Kannada. There was no problem of communication. But then if the student ventures out of state for work there would be problems.