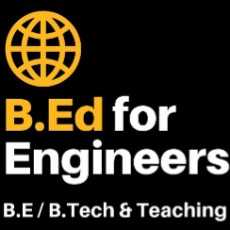 B.Ed for Engineers
B.Ed after BE / B.Tech - for Engineers aspiring to become Teachers. Ask questions, Get Help.
64 Members
Join this group to post and comment.
Job Opportunities after B.Ed
B.Ed, as most of you already know - is quite a popular option among engineers these days. I decided to make a quick list of job opportunities available to B.Ed degree holders and various domains they can enter into.
Government and Private Schools:
Schools continue to be the biggest recruiters of the B.Ed degree holders. As you may already know, it's required eligibility criteria if you wish to teach the secondary school and the higher secondary school in India.
The pay-scale may range anywhere from Rs. 20k/month upwards based upon the schools. 
Coaching Centers
As more and more parents rely on coaching centers than schools, the demand for B.Ed degree holders is growing in teaching centers. One of the biggest advantage of joining a private coaching center as a teacher is that the pay can be lot better than at school.
This is because of the exorbitant fees that schools charge to students for teaching the same subjects that should be taught in the school. B.Ed degree holders can find lot of job opportunities in coaching centers.
Private Tuitions and Home Tuitions
If anyone wants to venture into setting up their own coaching center this is a great way to start with minimal investment. Many parents are willing to pay hefty sum to the private tutors who have built a reputation for themselves. It's an interesting job or career opportunity that can be explored.
Many students find this an easy way to earn money by teaching their juniors the topics they've learned at school or college. Though this may not need a B.Ed degree directly; having it can greatly improve your chances of finding new clients or job opportunities.
Consultancy
The consultancy organisations employ B.Ed degree holders at various positions - from consultants to managers in the organisation. Their job is to either train the executives or help establish the discipline. 
The job opportunities after B.Ed are quite large. However, the initial pay scale could be little challenging.