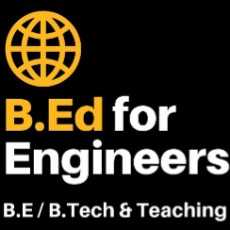 B.Ed for Engineers
B.Ed after BE / B.Tech - for Engineers aspiring to become Teachers. Ask questions, Get Help.
62 Members
Join this group to post and comment.

Future of the teacher pursuing B.Ed after B.E (Electrical)
I have done B.E - Electrical in 2001  and now pursuing B.Ed 2nd year from Savitribai Phule University of pune. At present, I am teaching grdae 1 students in one of the reputed schools in Pune . 
In 1st year my subjects were Maths and Science and in 2nd year I have opted for English.
I want to know what should I opt for to teach Maths and English to secondary school students and college students . 
Can you give me the information regarding MSc (maths) / MS through GRE  / MA in English . Am I eligible for GRE and TOEFL ? I am 1979 born.
Jaya - there's no upper age limit to taking the GRE. However, the University that you plan to apply after GRE may implement age restrictions. If you've shortlisted the courses and Universities to join - you might want to explore their eligibility criteria. It's absolute must even before you start preparing for GRE (and TOEFL). 
You haven't mentioned your end-goal and whether you are exploring options to move to other country to pursue your teaching career. 
In India - you'd do well with B.Ed. There's no upper age limit to opting for B.Ed. AFAIK, B.Ed is the right path if you are aiming to teach Secondary School.