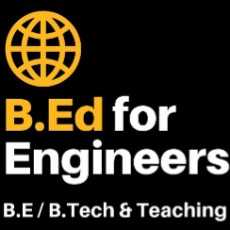 B.Ed for Engineers
B.Ed after BE / B.Tech - for Engineers aspiring to become Teachers. Ask questions, Get Help.
63 Members
Join this group to post and comment.

Can an engineer become a school teacher? Do I need a B.Ed. degree after B.E?
I think the answer to this question is yes, If you are planing for a long time proper teaching career, you will need a B.Ed. degree for which any graduate with minimum 50% marks as that is the eligibility criteria. You will have to offer Science & Technology as your specialized subject along with probably Math as the second subject. 
-> Some schools may also employ you without B.Ed. but it can't be on permanent basis. I think that engineering graduates prefer starting coaching classes either brick and mortar or online instead of taking the traditional classroom teaching route..
but I could be wrong about this.
@Rashmi Gandhi - yes, you do need a B.Ed degree in order to become a school teacher in India. However - the criteria is not followed by most of the schools. But you better bet cautious before joining such schools as a teacher. 
The B.Ed degree is mandatory if you wish to teach in the secondary school; that is from standard VI to Standard X. Of course the same applies to HSSC. 
While I do not have a B.Ed degree; I've heard that it focuses on building the psychological principles among the future teachers. 

I agree with @Kaustubh Katdare  , You have to do B ed if you want to become teacher in India 
( This is case for Govt Institute ).  Me and my friend have done B tech from CGC Landran , i choose to do MBA from same college while she did a B ED after  B tech because she found her  interest  in teaching.  So you can do B ed after B tech and become a teacher.

M 30 years BE IN ETC Graduate... But i want to BEd..... What are the criteria?  How to fill the form?