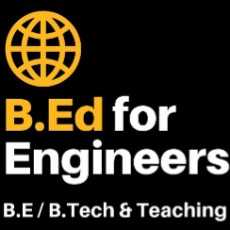 B.Ed for Engineers
B.Ed after BE / B.Tech - for Engineers aspiring to become Teachers. Ask questions, Get Help.
63 Members
Join this group to post and comment.
B.Ed After Engineering - Pros / Cons of this Career Choice
Welcome to the special group of engineers who are opting for B.Ed after their B.E or B.Tech degree. A lot of engineering students and even working professionals have been aspiring to become teachers. This group is dedicated to every such engineer who wants to follow this career path.
B.Ed as a career option
It's important to understand that the Bachelor of Education degree is a unique opportunity to Indian engineering students and professionals. As the current job markets become saturated and there are fewer opportunities to grow; teaching opens up newer avenues for engineers.
A lot of engineers who I've personally known have opted to teach at primary schools, middle level education and some in high schools. 
How does the society see it? 
After speaking to several such candidates, it became apparent that the society is now changing its ways to look at engineers who leave behind their technical backgrounds and make a career as a teacher. B.Ed is not only an option only for those who couldn't get a suitable technical job; but also for those who are willingly entering the teaching profession; thereby choosing B.Ed after B.E/B.Tech.
For the society, the 'big problem' is that someone who invested 4 years of their life and lot of money to get an engineering degree is now opting for B.Ed education. We still are mesmerised by the glittery shine of posh IT buildings; and no one is really looking to care for the much needed change in the education system. 
M.Tech, M.S or B.Ed? 
Indian engineers typically follow a very set path - if not direct job right out of the campus, it's always one of the 'MS, MBA or M.Tech' degree. However, a new option is now opening up - called B.Ed after B.E or B.Tech degree.
Look at the options that open up after getting these post-graduation degrees. Are there enough jobs available to MBAs? Sure, if you can get your PG degree from a reputed college - you can expect a good package and perks; but what about the majority?
Then there are MS and M.Tech PG degrees which aren't affordable to majority of the engineers. Most engineers are left jobless even after spending additional 2 years into getting a PG degree.
In this special group, we'll discuss all your questions and answers. Feel free to ask yours and help others.

Well written . I really like the way you have written the pros and cons.

am i eligible to choose science in b.ed entrance test?
i have done b.tech in mechanical but i have lot's of interest in basic physics and chemistry.

sir i be mechanical engineer if i worked in cbse school is right path or not?
please guide me