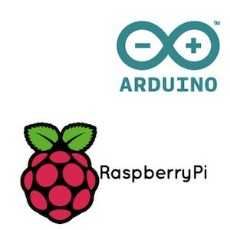 Arduino + Raspberry Pi Lovers
Discussion and Q&A about Arduino and Raspberry Pi projects.
186 Members
Join this group to post and comment.
Can anyone suggest industrial application based project ?
As we know we engineers always want to make such projects which are for completing the requirements of the industries, to provide automation, and many more enhanced facilities. 
So is there anyone have ideas about the projects which will be benifit my resume and would be industrial based project using Raspberry Pi or Arduino or any other board or may be any other technology ??...plz comment if anyone have idea about it ! 

Lets see, nowadays every industries are trying to develop those gadgets which is pretty easy to use and cost effective. If you really wanna build up your resume, I suggest you start with home automation based projects. Think about it, if you are somehow able to link a self made device with your home appliance, wouldn't it get more easier to do that on a large scale? That's why you should try out some home automation projects like powering up your home appliances automatically through solar panels or building some kind of security systems. Once you are done with a few of the projects here, you can start with industrial based projects like wireless controlling, wireless robotic arm, complex security systems which requires bio-metric keys and much more. Just keep in mind that most of the industries today try to make their devices wireless to make it more simpler and convenient, so its better to make projects wireless.
@Kunal Gokhe bro I don't think it's the best thing will you give some other options. As it is not much relevant and needed thing.
Already there are many algorithm with more and more accuracy of speed achieve and time less 
@Shaif Jawed yaa broo u are approaching to near about the right thing but still I don't get that satisfaction that should just satisfied enough.. that make to feel ok like I got the correct answer.
But thnx for your time and your words but if you help somemore it would be more beneficial.
As you said home Automation...ya I like it that it's good thing but sometimes it's not too close what we think about industries the technology of industries are much more advanced and far away from our thinking.
You know there about only 18% engineers got employed , all other got scrubbed becz only industries don't get that qualities , what they are expecting.
Well its true that most of the industries use advanced technology but I don't think that this has anything to do with an engineers unemployment. From what I know, students are not able to land a job because of a few major reasons, if I have to point out the most important reason then that'll be no clear view of basic concepts. Its pretty obvious that a student who says that HTML is programming language doesn't deserves to be a web developer because its the most basic thing a person can remember. 
And I don't think any company expects a student to know about advanced technologies used by the respective company because in the end what they care about is if the student knows the basics so they could train them a little and get them accustomed to work because if every companies had to hire students with that much high level experience in technologies then employment for 18% would seem like a rather big number, I hardly doubt even 5% would be qualified for the task. 
So in the end I can say that basics is something which matters the most, that doesn't means a student should not even attend internships or work or projects.. that's the reason why I recommended home automation projects because if a person knows how to build them, then of course his basics are well and good.