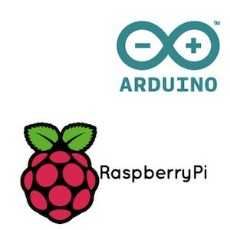 Arduino + Raspberry Pi Lovers
Discussion and Q&A about Arduino and Raspberry Pi projects.
186 Members
Join this group to post and comment.

Arduino Breadboard Shield
Don't despair, there is a solution to the lack of breadboarduinos. You can build your own Arduino shield with a solderless breadboard in about 10 minutes. It's not nearly as full-featured as prototyping shields, but it's great way to quickly add a solderless breadboard to Arduino.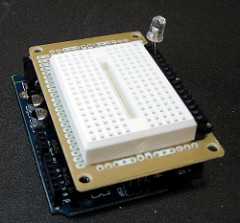 Parts you'll need:
small solderless breadboard
small circuit board
Two 8-pin header sockets
Two 8-pin single inline wire-wrap sockets
Steps:
Get the circuit board in your hot little hands
Take the wire-wrap sockets and insert them into the furthest row of holes on the circuit board. Solder them down.
Insert the header sockets right next to the sockets. Solder them down.
Take the double-stick tape off the solderless breadboard and stick it on the circuit board next to the sockets.
Gently bend one row of wire-wrap pins a bit closer to the other set of wire-wrap pins. This is because the space between the two sockets on the Arduino board aren't on a 0.1″ grid like the circuit board. Too bad for us.
You're done! The final product looks like this: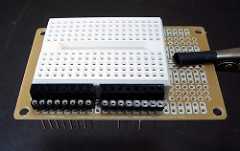 Notice that since the circuit board has a line of two rows of pads connected together no wiring is required, just some quick soldering: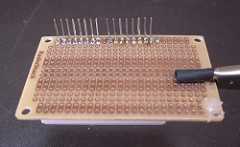 You may want to add a dab of hot glue to the opposite corner from where the sockets are to act as a bumper and keep the board level.

Its great, I've never tried it before. Till now the only shield for Arduino I've heard about is the Troyka shield. Its a bit expensive, almost half the price of Arduino but I like your idea better. It doesn't looks much costly and seem pretty easy to use. I for once would love to try it. Troyka shields were sometimes included with some expansion boards which made it hard to work on them, not to mention it made it look more complicated. This one is requiring a little more time compared to that but still it is more efficient and easy to use so thanks for recommending and sharing this idea. I guess I'll buy and try one today only.