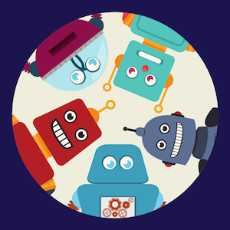 Robotics and DIY Enthusiasts
Question, Answers and Discussions about DIY Robotics Projects for all tinkering lovers!
147 Members
Join this group to post and comment.
Why are robots still not being produced for mass adoption in consumer markets?
Robots are still like dream, even after decades of robo invention, it is available to only some extent in market. Why it is not happened that it should be available at large extent for everyone .???
I think the main reason is because they haven't been perfected yet. We already know that devices which are going to be used in our day to day life should have the capability to work in different environmental conditions, which means it should be tested over and over so that it won't get damaged quickly. We can take example of ourselves, if we are assigned to design a code for a specific function and we somehow finish it early, we discuss about it with our teacher and classmates.. its the same way how you see many robots on the internet because they are just prototypes not the final product. So it becomes the creators responsibility if there are faults in his device so he tries to perfect it by making it go through a lots of tests until he is satisfied with the results.
yaa what you are saying is right that we are still not get perfection in robotics production but what you think after the invention of Sophie like humanoid robots...If it is able to manage all this then definitely it will be the best one the production rate will increases rapidly. 
Before Sophie it looks like we have to work more enough to acheive such high production but now it looks like something we acheived ...
Its true that Sophia is one of the humanoid robots who was able to achieve AI and mechatronics integration like her facial expressions, realistic motions etc. But sophia is still a weak AI, to put it more simply most of her responses are pre-programmed and her perceiving nature highly resembles a chatbot then a human. All her interviews are programmed ahead of time making the conversation between her and the interviewer look real. She is able to answer simple questions which doesn't requires much complication but for the rest of the questions, she serves through the net and finds the most suitable answer. A real AI should have actual opinions, feels and thoughts but Sophia has none of those. So I can say that she still requires quite a lot of time to reach perfection. Originally she was made to escort older people when they are alone but from the looks of it she still needs time to get better. 
Yaaa but still Sophia is best at this time so whatever is best plays an important role in our hope ...what we assume we start connecting it to todays schenerios. That plays an strong feeling of having too much hope and expectations from such things so similarly regarding Sophie may be its like a chat bot according to you but whatever it acts is much more advanced and efficient than ever...
So the hope with its also has much more expectations....i m sure there no more time when robots startis making technologies for us.
Even I'm sure after that there will be no mass adaption of robots in market because of its high price and many more things 
I'm not really sure but it seems you are not much knowledgeable about chatbots because it was build around 25 years ago so there's nothing advanced about it. Sophia may seem a little too advanced from her looks, interviews and seminars, but trust me there is nothing advanced about her. Before her many AI have been made whose pre-programmed features are much more advanced then Sophia and many robots have facial motion much better then her. I WON'T SAY THAT SHE'S NOT IMPRESSIVE AS SHE IS THE FIRST ROBOT WITH THIS MANY TECHNOLOGIES IMPLEMENTED ON A SINGLE BODY, but after you go through many articles on her build up you'll realize that there's nothing new about her. In the end I can say that mass producing something like Sophia requires a few more decades because of her imperfection so I think she is the last bot one should worry about mass producing, and its pretty obvious that before her many other technologies will be launched in market with promising results.
Yaa because i not so much interested in hosting bug you can't say a humanoid robot just a chat bot.
Do you think is it right to say a humanoid robot only a chat bot ..what you said that it takes data from internet or from the specified answers it only give answer so you should also keep it to know that whatever your are saying or whatever data you have is also just a copy and collection of a that data that you gather from others in any way so basically you also just like a normal chat bot what you say what you think is all the gathered data or the things you git from various things and internet is just like the combination of various data at a online way of transmission.
I never once stated in my sentences that its ONLY a chatbot so I'll assume that you didn't understood what I wrote above. And I'm a little surprised that you didn't hesitated to say that everything we say or gather is already available on the internet, don't you think this brings us to a conclusion that you don't have any self confidence in whatever you say or think because this'll mean that all the inventions which were made till now were all available on the internet which people just copy pasted and got noble prizes.
I can see that you are keeping me on the same level as that robot, I'm flattered to hear that, but I can without a doubt say that I'm much more better than that robot because unlike sophia I can show many facial expressions because I am the real deal. I can come up with many ideas and show multiple emotions which are far superior to a measly robot without any help from the internet, some of my idea may be on the internet but most of them would be futuristic and crazy which is impossible for a robot like her to do. My speech is more realistic because it has got the power of persuasion and emotions which is way beyond to an inferior robot like Sophia. This is my answer for the part when you compared me with Sophia.
 You should know that every idea whether senseful or senseless goes on internet after we think about it, the way you said it sounded like internet is an AI which has already came up with billions of ideas on its own. If you think that AI is a machine which collects the most sensible answer from the internet and replies to us then I highly doubt that you don't have a clear idea as what an AI really is. Giving an answer based on its own accords and emotions is something which can't be achieved that easily and that's the most challenging part while designing an AI. So I think you shouldn't encourage these statements without having any knowledge of what the real thing is like because people may get the wrong idea that you don't know anything. If you just mention the terms like ' I think ' or ' imagine ' in your statements then it'll be more sensible since it'll show that you are just stating a hypothetical thought.
Hehe I think by mistaken you assume that whatever you got is from internet bcz I didn't state that whatever you got or whatever knowledge you have is Just all because of internet only. And whatever you have stated about the AI and machine learning is not the new one that all data ate also present in many ways to many places you are not the one who stated this newly .
And the thing you says about innovation and many more so you should know that there's  a lot of innovations that are inspired from the written books of ancient time or any epic or any thing  . And I neither compared you completely with Sophie I just sayed like it that whatever Sophie says is the data that she got from internet or from people nearly you also work like that whatever data you have is also the stored data of various things and whatever you said that you are so realistic about your words or whatever you said ...so that's not a new or different things everyone things like this.
And whatever you said that I should not encourage some one like this so for your knowledge I'm not encouraging anyone I'm just stating whatever I think is right as you stated whatever you find right by your understanding.
Still even by seeing your way of reply I'm just trying to put my way of thinking by delivering such statement similarly as you are putting your views. It's not a big thing to act like this. Cool bro be cool....
I don't think I'm mistaken in any way because no matter how anyone looks at your sentence about having whatever we say is the data we acquire from internet since I'm pretty confident in my reading skills, if you just wanted to give a hypothetical example then you should have mentioned it in your sentence if you don't want people to get the wrong idea.
By the way I don't remember ever starting the topic of AI or machine learning because you were the one who first started of with Sophia knowing that AI and Machine learning are the starting blocks for a robot like Sophia even though its a fact, not my assumption that something like that will take quite a lot of years to first gain perfection and then mass produced.
And I don't think giving your personal opinion is a bad thing because its a great way for extending your perspective of ideas. But you said yourself that you stated it, I think you don't understand what it means so just to let you know it means that you gave that idea not even knowing how the real thing actually works, instead you gave a theory based on your own imagination knowing that it is completely different from the real thing. So I think its better that you should first confirm things and then reply, the way you said that how collecting data from the internet which is the closest to the answer for an AI and the say way how humans work is a really absurd theory because its not even close to the real thing, you just made it up yourself, if you are confident then you should have a concrete proof on such a solid assumption. 
And I hardly doubt there are any people in this world who are not confident with there speech and think everything they say is what they collect from internet. I hardly doubt this sentence because if it was real then it would have become the most amazing fact of the century. Think about those people who don't have the luxury of internet, they gain knowledge from books and surroundings. The most important place where people gain knowledge is not internet because intenet could never have started if people never shared their opinion on it, its ' Visualization '. Visualizing things is the best way to learn something new, if you are not familiar with it, the best example you can check out are einstein's thought process. And you mentioned that everyone thinks like this, I don't remember anyone besides you saying this thing. If there is someone like that, I would love it if you introduce that person to me becauae he/she is going to be one of a kind.
In the end I would say that your only issue is you are not giving ideas but stating things, means you are just giving your theories not even considering what the real thing is like. I know that you are just giving ideas so thats why you should mention that its just your assumption, not change the real thing. Imagination is a good thing but changing the theories is wrong. You should first get your concepts clear about it then use it in your explanation not just throwing anything you think is reasonable, because I really respect science thats why I don't like it when people change the real thing and say anything that comes to mind without any basis or reasonable explanation.
Hehehe it's the 4th time I'm saying bro that I never mentioned that whatever a human get knowledge is only from internet everyone I said that whatever knowledge one have is the knowledge that he gather from various things it's may be internet or surrounding or anything else and the thing about the AI is that it is also based on the same thing by analyzing the way of human that how he gather the data and how thoughts are generated how decision are taken etcetera etc ..but I don't know what happens to you .  Yoo are repeating the same thing many times and every time you are making a noise that you are right and whatever you stated is right.
If this is the way so you are wrong dear if you really think you are right then give a satisfactory comment rather than making or saying some one that you can't understand or you don't know anything .
If you think you know many things just make the counting of things that you never learned from anything or anyone in this world and still you know that thing .
I'm not sure what's making you think this way but I never once mentioned in my sentence ONLY internet is the place where people get knolwedge, I was just taking an example of internet so I guess you have some reading issues and I don't blame you, it happens. And I'm not really saying anything like you are wrong and I am correct, you are just stating the definition of AI and working of chatbot the way you see fit, means you are making it up so I would suggest that you check it on the internet first. If you are still having doubts, you should read what you wrote a few sentence above chatbot as whatever data we have is just a collection of data we gather from others in any way, don't you think you should be more careful as you only don't understand what you are saying since humans don't really collect data from other but more than 80% comes from their own thoughts so you might read what you wrote carefully first. If your statement was valid then there's no way internet or books could expand any further since all the data is already present there, nothing can be added, nothing could be removed. 
And its not like I have fun doing a debate like this because you only started the topic of an AI like Sophia for mass production in these years which was a pretty funny argument. Not to mention how you compared a human and a chatbot completely or partially knowing that they are not even close in thought process. Even now also if you copy what we are saying and search it on the internet, you won't find anything because its the only thing going inside our minds.
Well its not like I know everything, I still have many things to learn, but I am confident with the things I learned and I don't see any problem pointing that out, I'm not sure why you are getting agitated because its just a simple healthy discussion. You should be more careful with your words, not that I am offended but it seems you are having a little problem understanding completely what I am saying and also you can't also put your thoughts into exact words and continuing.
Hehe what you are saying is just making me to laugh and to say you that whatever you are saying and yo whatever the problems you are pointing to me you also have the same problem and the things you do you also repeat and by mistaken you assumed it that you are right at every point and I'm wrong at every step ... Bro whatever you have said all these you are putting all the things on me that how I compare human and bot and then AI. So you should remember that I'm not the one or not the ill one who is just discussing with self you are that one who is trying to making it a large one even by doing the same mistake and trying to show yourself right. And understand that whatever the words you introduced here is all just because of your understanding and all because if the things you got indulged whole day .  And in a single sentance if I would like to say that you are just an common person like . Who think that whatever he is saying is right and whatever he said is correct in anyway. So please keep in your understanding that whatever new books are being introduced are not the one that were out of the imagination or the thinking of a human . And the things you said that I'm unable to get all the things tight so mr. Keep in mind that whatever you are saying and trying to convince is also just a bad one , that you are trying to prove good one ....many times I give you chance to give an normal and better answer but you think that may be taking too much really give suktiyon of every thing so you are just like the normal one who do the same mistake by keeping eyes close and assuming that he is right as he can't see the same mistake he is doing .
There's a lot to say but in actual you really doesn't matter too that much extent that I will give you explanation and try to settle it . I'm just leaving it to you as I have git the idea what you are like. And I have explained it above hoti some extent even after that if you don't understand so really saying too much doesn't means for me . And now I don't think that you have a satisfactory answer. So any discussion without a satisfactory answer is just waste and useless as I get that this discussion is not increasing my knowledge it's just adding the waste things.
I don't really think thats the answer I needed. You just wrote a short biography of the type of people you hate. Well I don't think I will go in any more detail about this topic so I would only ask a few things which you claimed till now and of course you have to show proof, i'm not going to be fixated on imaginary theories like you did before. And if you think till now I was accusing you of false ideas then it'll be clear after you showed me where you read about those theories or else you are just continuing how much of a faker you are till now. Not to mention I never stated any theory of my own, I just shared the right information which is practically proven, if you think I made anything up, be glad to show me.
- where did you read that whatever data we have is just a copy and collection of data we gather from others so basically we are also like a chatbot?
- you said just like sophia gathers data from internet or people, we also acquire data like that and whatever realistic thoughts we have its the same with everyone ?
- Finally where did you read that AI collects data the same way human analyzes and collects data ?
So prove these to me and i'll take back what i said. But make sure you don't add anything else, i want the same reason the way you asked them. And if you think I gave imaginary ideas, just mention it and i'll give you the proof.
Hehehe whatever you are saying don't you think you are copying thae way I'm dealing with you ... I ask questions to you and asked you to give me satisfactory answer and now you are saying the same things just by using some other words ...so what it proves ...does it still need a answer of your questions ??
Don't you think after that there's nothing to say ?
Well leave it you can't understand because if you can then I don't have to say the same things many time .
Leave it bro just chill cool it bro ...cool down 
Well I don't recall you ever asked me something, don't you think you are just making an excuse to run away from what you made up in the earlier sentences. There might be a chance I didn't noticed your question because you never framed it separately from your senseless sentences, so if there are any thing that you think I made up myself and you want a solid proof, then don't hesitate to ask, I'll give you a satisfactory answer, but only those which you think I made up because I'm done giving my personal opinion since its hard for you to catch up.
So I don't think there is any doubt as who is the one who couldn't understand the other person, I just asked you some questions which were based on your theories, so just give the concrete answer and we'll be done. Its just like you are asking to continue this discussion further. And if you do feel guilty about the things you made up then I don't think it takes much efforts to say that all this time it was just your hypothesis not the actual theory.
And by the way, I'm much cooler when I'm in the middle of a discussion because I'm confident in my researching and analysis skills 😎  Of course, the thing about asking me a question, if you do think I made something up then don't hesitate to ask, I'll be glad to share the real thing.. not to mention if you do find any proof, be a kind gentlemen and share the things you said or else simply say that it was just your hypothesis.
Hehehe just look at your self how your behaviour changes from last comment. And still you are saying to me that I'm not providing you right satisfactory answer dear , look at yourself it's the effect of that answer which makes you to realize and to. Say all this . And by your comment it looks like you are not much interested in discussion actually you want to show that I'm wrong and you are right .so I have to say sorry to you. So for you I have only one thing if you really thing you are enough skilled so rather than doing such things . Do such things that your skill or your knowledge make me to bow down to you rather then repeating the same thing and asking to say sorry. 
And the thing you said that may be you don't get it , that I asked questions to you because I have not make that question highlighted. So bro it's your mistake not to look question actually to being so much aggressive that you even don't get it whats happening in real. Now I didn't think you could get anything because the last comment which I made I gave all the solutions of your questions you asked , but even you can't get it . So whatever I would say , you may also not get . So leave it bro ..
I'm not saying you that you are not more skilled then me . Even I'm saying I m nothing but the way of your approach is not right so whatever you get you loss many important things. Leave it I don't want to explain too much bcz I don't like.
I guess it can't be helped if you're backing off from the questions I asked because it seems it was meaningless to ask in the first place since I should have known that you won't be able to come up with any prove since you're not even confident to prove your own statements right, all you did was throw senseless arguments to elongate your sentences which at the beginning without reading made me happier that you somehow came up with any concrete answer but I guess I was wrong. In the end you couldn't gather anything to show that you were right the whole time, instead you just saying the same thing again and again that you have already answered it even though I couldn't, not even me anyone wouldn't find a shred of answer of my question in the replies you mentioned, not to mention you keep telling me that I'm showing off, that just makes you more hysterical. 
Don't you think if you really wanted to end this topic you could have simply wrote the answers directly instead of talking about senseless things in every reply. So I'll actually assume that you just couldn't gather the materials and don't wanna say it up front which you should have done from the start. 
And just for your future reference if you don't know what the word 'Proof' means, its something with concrete and verified information which is not made up by a person himself, instead he/she has to give its source. I mentioned this point because you said that you have already answered my questions in the previous comment but I couldn't see any websites link, or an authors book's page number or any other verified source. So its better if you keep in mind what proof really means if you wanna give it to someone in the future instead of making false sentences on your own like in my case. 
So its alright for you to leave it since I don't think there's any use discussing if you keep saying the same things instead of the same usual routine. I'd rather have a desirable answers with proof to your theories, and if you don't have it... just simply leave it.
Dear @Shaif Jawed , I'm saying you bro what you have said only makes me to laugh. I mean to say it doesn't give me any thing rather then just laughing at your points and thinking, it looks that what you are saying is much more related to the documentation only, which shows that you need a document to be in written form to get any thing as truth. I just want to say bro, that truth is not all about the written form of any document. Way of writing to store data is an old thing but not the necessary one to prove any true. What is already present in books in not written , for only to store the truth which will we used as later as an evidence. Books are written to expand the knowledge and to store that knowledge. And it generally stores the things which are being kept for the purpose to not being forgotten easily, as these are found by some way of hard work. But before all this every truth is always in oral form and still written is not so much important that it would become able to replace oral way. So the thing is that, for what you are asking me to provide you a written proof of the statements i said to you. Before giving you all that I just want that will you please ask yourself who you are ? and what thoughts arises in your mind is only because its you , no other thing matters ?? Just ask these two questions to your self and just confirm me you have asked and get a satisfied result . I will give
I never imagined you could write something so funny. I can't believe someone could be this clueless and waste his energy to write a long paragraph like that rather then using a single word. If you really claim that documents are not necessary to show that a person is correct, doesn't this means that the documents on those topics were never really made if you don't even remember where you learned those things, so to put it simply you could have mentioned that its just my hypothesis or imagination instead of writing meaningless things like that. Because something which was never said orally or never mentioned somewhere before is of course your hypothesis if there is no proof, I'm not really sure why you are having a hard time such to admit that your concepts were hypothetical and a work of fiction.
And for your kind information my dear friend, when an interviewer asks you for your documents about your past experience, he doesn't needs to answer who he is because its his right to verify that the person is telling the truth... So you can say the same case is here, I don't really expect any proof from you because I know whats correct, but just if some new theories might be discovered without me knowing and I couldn't keep up, for that purpose I'm asking proof as a curious minded person, not because I want to laugh at someone's hypothesis. So in the end its up to you to provide me with the proof of your claims i.e if your theories are not a hypothesis since I'm tired of asking for the same thing again and again without receiving any conclusion.
Hehehe that's called  stupidity, when you are doing the same thing by writing too long para without any useful data...just because you think you are right and now when you see reflections of your , it hurts you ...hehehe really funny bro. . .you are saying about your curious mind ..hehe is it really ?
Your whole curiosity depends oy on your logical mind, for what you got logic, your mind says it's true. But i really it's funny. You are saying that what I have told is hypothetical and meaning less , do you really know about such things. I asked two times question to give you appropriate answer but you , logical minded slave just got stuck in your self and can't reach to truth and now you are putting the whole things only to me, that I'm not giving you answer . And the things you said about interviews that a certificate copy is required in paper form bcz every know it is provided to you in paper form so you should have it. But this doesn't mean that everything should be in paper form to be trusted .
Well there's lot of things to say But as you can't understand so easy things so it would we waste to go beyond this.