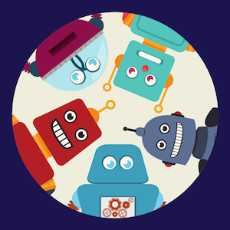 Robotics and DIY Enthusiasts
Question, Answers and Discussions about DIY Robotics Projects for all tinkering lovers!
152 Members
Join this group to post and comment.
What will happen to poor and skilled employs if robots work instead of them ?
Is it a good thing for future of human?

Its definitely not a good thing I would say. First of all I highly doubt that there is a single answer for this question since there are many solutions, and of course in a negative way. Most people will lose their jobs because robots are more capable in many ways then us we are talking about AI programmed robots. Some of us might think that in order to get a job, why not build robots to make a living, but think about us this way... In the future, if human mind became somewhat capable to create robots which can replace us from different fields of work, then there is also a chance that they might create those types of robots which can replace their own creators, to put it simply they'll build themselves on their own and there won't be humans like us to do any work anymore.
Lets take a hypothetical example, assuming a company is hiring for new candidates and someone applied for a position. Now its natural that since we will be leaving in a high tech era, employees don't really have to do anything since they'll just program a robot to do the task. Now knowing that everything will be done by the robots, why should the boss go all the way to hire a candidate since its better to make a robot to work for him then asking an employee because there is no way a robot will slack of during work, ask for salary, need any food or rest. He is perfect as an ideal candidate for the job. These are all speculations but I'm taking this point in account that since you are asking about future employment, its obvious that I gave my explanation assuming the fact that all robots must be AI built.    
This would be a horrible situation . Great efforts Shaif Jawed.