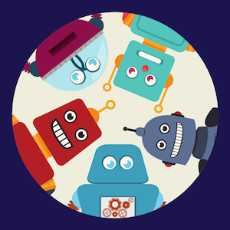 Robotics and DIY Enthusiasts
Question, Answers and Discussions about DIY Robotics Projects for all tinkering lovers!
144 Members
Join this group to post and comment.
What will be the future when Robots starts making new technologies ?
Today we all know that what is the word technology means and how rapidly it is being change and updated. We humans are creating much more advanced things now..every yesterday machine is already being replaced by the new one .....
Is it possible that the Robots which are in innovative and its better to say in developing state can be able to design new technologies even more better than the human ??
Just think how much advanced and what type of technologies robots can create , we alll are familier that at this stage what robots are doing is already a miracle ...what you think what would be that technologies can anyone think ???

I agree. In the near future if the robots become capable of creating things on their own then it won't be surprising if they create advanced theories and technologies in a very short amount of time. Knowing that a human knows far better and to a greater extent when compared with a robot, but if the same knowledge is implemented inside a robot, it can come up with the same theories the human did in a short amount of time thanks to its processing speed. We know a lot of things, but most of the time we ignore it even if we come across it many times a day. The same was with many theories like the law of gravity, we used to notice it every day but never wondered about it. So if robots were to have the same thinking skill as us, then they'll be able to easily create many new devices after compiling all the knowledge we have because they could remember each and every thing and relate it together. 
Ya you are right ...whatever here you said is absolutely nera about close to mine thinking...it's just like the more magical things that we can do , if robots starts creating new technologies then it would become to good and very helpful for all humans...
But it's positive effect also makes an impact on the negative thinking persons as it becomes capable of creating nee technologies so it would also be said that it can create the dangerous technologies also that can be dangerous to us and can be very harmful for all of us...and in anyway there thinking is also right as suppose if the robots became capabale of creating new technologies so they can also make to born a new technology against we humans or by chance it created but the result will be very dangerous and even be can't imagine what it can be !!!!