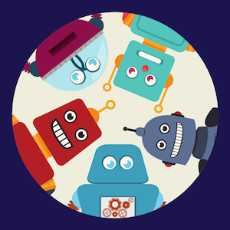 Robotics and DIY Enthusiasts
Question, Answers and Discussions about DIY Robotics Projects for all tinkering lovers!
147 Members
Join this group to post and comment.
What are the advantages and disadvantages between Legged/Multi-legged robot /Wheel type robot?
Explain each other in details?

Lets see, I'll try to mention the advantages of legged over wheel and vice versa since one of there advantages might be a limitation for another one. So some of these points might be :
If we are building a robot to carry some important stuff then its better not to use a legged robot since while walking it can produce vibrations and shocks which might damage the material, on the other hand a wheeled robot doesn't produce much shock and vibrations so it'll be less risky.
If the robots are used in a hilly area, then its better to go with legged robots since they'll be easy to get across uphills or small climbs but for wheeled robots it'll be difficult because they won't be able to move across cracks or hills.
Next if the robots are used for personal use in day to day life, then its advantageous to use both types depending upon the situation. Both of them has their own strong points like the wheeled robot is best for plain grounds to carry stuffs gently and the legged robot is best for irregular ground and climbing purpose.