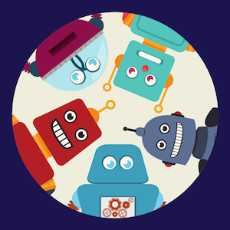 Robotics and DIY Enthusiasts
Question, Answers and Discussions about DIY Robotics Projects for all tinkering lovers!
147 Members
Join this group to post and comment.
Robotics as a member of society ! What you think about it?
Guys as in current era the life of robots are getting much exploring even in production and their skills and many more but the thing is that as we humans need a society and its a common thing that robots are also for the human so it have to come to human society to explore himself and also to understand and help human so its also right to say that robots will also be the member of that society ...
what you guys think is it good ?
Means a heart less machine which can be dangerous at any time in society does its a good thing to live with robots ??   😕 

I think robots can coexist with humans peacefully, if that was not the case then why are they build in the first place. Its pretty obvious that living with them will make life much easier since they might turn out to be a good family member. And I don't think that they are a threat to the society if we only consider their involvement, but if a human is behind it then it might be true. To put it simply, a robot has no intention of going on a rampage on its own accords, a human must have programmed it that way. So we can say that they won't pose any threat to us unless its asked to do so, but I guess these things must be taken into accounts to make safe and secure robots and run a few tests before manufacturing or selling them in the market. 
Yaa definitely what you are saying, going to that thing ...that robots has no such intentions they are programmed such to get work from them so if someone make a devil programming means a program which makes robot to act as a harmful device then we have to manage all this ....I mean if someone got access to robots programming he can made it a dangerous one which will be very harmful and dangerous and I don't think any robot is 100% secure about this each one can be programmed and can be turned into a dangerous one.