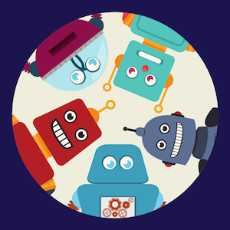 Robotics and DIY Enthusiasts
Question, Answers and Discussions about DIY Robotics Projects for all tinkering lovers!
147 Members
Join this group to post and comment.
Need of Robot Drivers in India?
Does there any robot which can acts as a driver for your car in our country India. Or in any other countries ?
I think this would be the best thing to get rid of too much damage due to accidents and even the cause of accident.
But may be its just my imagination ....do anyone have idea about it ???
I don't think using robot drivers is really a good idea. Think about it, having them as our driver has many demerit points instead of merits. Lets take a look at a few points,  
First of all there isn't any need to have robots as drivers just because we are lazy to handle the steering wheel, if we don't wanna do it then why not go ahead and buy an automated car. The cost for an automated car will be far less compared to the combined cost of the robot and the previous car. If we want to travel someplace, we can simply give the command and it'll do so.
Next its not like every person buys a car for an extra large family. Think of a four member family, if they are buying a car then four seated is enough. Now in order to drive your car the drivers seat will be reserved by the robot, this way one of the family member will have a hard time congesting in that cramped space. But if you are using an automated car, your driver seat will be empty since the controlling mechanism is inside the car so there won't be any sitting issue.
No matter how great an electronic device is it needs maintenance every once in a while. Now running maintenance over a single automated car won't take much time or money, but we can't say the same for the driver robot since we have to run maintenance on both the car as well as the robot which'll cost a lot of money and time.
So I'd say its better to keep enhancing the features of an automated car instead of letting a robot to do it.
Don't you think about all that conditions where it's not possible for human to go or to drive and also there's many cases where one need support and cooperation with other but they can't trust someone easily including all these factors . Stills I also maintained a little factors in it but what you are saying that increase in price of robo leads no acceptable it. But just think when the mobile phones comes in market it's also of a high cost and many more is that still now it is covering the whole world. So it's not necessary ghat if something is costly so it would be not acceptable by peoples .
I don't think cost was the only issue I mentioned above, and not to mention if we talk about mobile phones, its a daily necessity but that's not the case for a robot driver. If I have to compare this scenario with a mobile phone which you mentioned earlier, it'll still not last longer. 
You shouldn't forget the most important point an engineer always keep in mind while building something, that is always use lesser raw materials to build something which is more efficient and convenient. Same thing is with the example of your mobile phone, its true that they were costly at the beginning but what you are comparing your robot drivers are to a telephone not a phone because they are bulky, hard to carry and less efficient just like a robot driver. And if I have to take example of handheld phones which evolved into smartphones and iphones, they can be counted as automated cars which are much more efficient and used in a large quantity compared to telephones which are barely used in some offices and won't last for longer time. 
Even if phones were costly at the beginning and started to come at a stable price, they were still made in such a way that its features kept on increasing till now. But we can't say the same for a driver robot because however you upgrade it, it'll still use space, in the end you can make it smaller that it won't take the driver seat but then it won't be any different from an automated car. 
And you were mentioning to use them if we need support or can't trust someone else with driving, well I won't say there is any error with not wanting anyone else to drive it but can't trust someone is not a valid statement because if everything runs on technology in future, its common sense to say that anything can be hacked as well. I'm not saying automated cars can't be hacked so this statement is a limitation on both scenarios.
So I can say that robotic drivers may come in market, but there is less than 2% chance that they'll be sold thanks to its wide range of limitations and the only people who'll buy are rich people who just want to show off but for the rest of the people its of no use because of its pretty easy to say that an autonomous car can do wide range of things that a driver robot can't from less cost to occupying low space.
I'll use this opportunity to add something to your question, if you mentioned to use driver robots for rescue missions like police operation or fire fighting, then it'll be a big talk in the market since these situations are too dangerous for humans to do by themselves so they can upgrade the robots a little which'll allow them to drive and save lives, but since you didn't mentioned this situation in the description I mentioned it here.
Hehe by reading all this whatever you have said it board me but at last I would like to say whatever you said I didn't read completely because the thing that you can say in just few words you make it too long.
But a robo for driving is why not, even when people are taking a robo just to serve a coffee and to clean home or whatever various types of work they take .
It's not a thing of money I think ....it's a thing of showing off and also something else but it's not just a thing of money only so don't judge it just by money...
I wrote it long because you don't catch up quickly and since you didn't read that means you don't have any intentions of knowing how massproduction of things really work, you are going with your own imagination. 
And the most important thing is that you proposed this concept and don't care about money where making a minimum budget of things is the most crucial part in designing something if they are going to be mass produced and used in day to day life application.
If you really didn't cared about money and were giving an idea for robot drivers for just the purpose of hobby then you should have mentioned this in the description which was an error from your side because using this for day to day life use and not caring about its cost, i hardly doubt something like that exists on a large scale, maybe just for hobby or interest.
Hehe it's not a few hour we talk and you are making judgement about me that I'm not able to get what you are saying ...it's really funny bro...life is not about making judgement and seeing one by this judgement whatever you write the things include a simple point. I know and understand whatever you want to say that money is important for an innovation or better to say for any new machine money should be less but did you really think money is everything ..
I just have a single question for you robots are probably not at cheap price even they are manufactured and are being used not only at a single phase ....so why robot is even introduced just only to serve coffee ??
Just give the satisfactory answer of it then next things comes after it .....
The reason is pretty simple, its because they are used as an attraction or used just for the purpose of favoritism or hobby not as a day to day life necessity. You can see a lot of their models on internet where most of them are just industry prototypes still in development. You'll only see some of them in places like a robotic cafe which of course means that the owner just want to use them as a hobby, its not like you'll find them in every coffee shop or homes. If they were really that popular the way you put it, then it should be common in many countries and I should have found an estimate on its manufacturing on the internet but unfortunately i didn't got it means its just for the purpose of hobby, not something for mass production.
And if you don't really care about money or mass production, i think you'll find almost every kind of robot manufactured somewhere for the purpose of hobby or as a test subject, like one for cleaning toilets, for scratching someone's back, for feeding someone, for changing a baby's diaper or a robot for picking nose. All of these ideas may seem weird but they still exist and manufactured just for the purpose of hobby, the same goes for the purpose of your coffee serving robot.