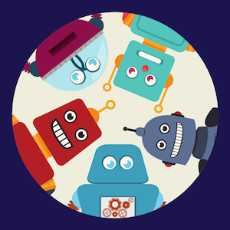 Robotics and DIY Enthusiasts
Question, Answers and Discussions about DIY Robotics Projects for all tinkering lovers!
144 Members
Join this group to post and comment.
Can Anyone ask me how robotics helps them in your respective field ?
If this question I take it to myself then my field is Civil Engineering  and 3D printer is the new technology that we welcomed in our field. Now we make giant structures with the help of 3D printers like we make homes etc. The Robotics behind it amazed us. 
That's a really good question Mohit. Every engineer wonders where they can use the concepts of robotics to make there work more easier. I belong to the stream of Electronics and Telecommunication, its not like everyday but our college organizes a few robotics workshops every now and then where we get to make them from scratch and get to know about their day to day life applications. 
For instance I started my debut in robotics by building a line follower robot when I was in first year of engineering, and you may already know that we can use it in industries for handling materials since it follows a designated path. In the next semester we made a voice recognition robot for which we had to make a mobile application. It was pretty cool since this type of system could be used to control autonomous vehicles, robotic arm, security system and much more. It was not too long ago we had a workshop on 3D printing where we got to know how it's used in so many different places, and I plan to learn more and more about them in the future since working with them seem pretty interesting. 
Right Shaif I saw in your comment you have keen interest in ROBOTICS that's great. You did really a great job in your core field as you mentioned in comment.  
But one thing I want to share with you is that you should start a group of robotics studies and experiments in your college premise. Where you easily find young minds as well as interested candidates. With them you should start a Project. If you already had it then share what are the upcoming projects of your group ?
Thanks a lot. Well we do have a robotics club in our college called eYantra where we build robots to participate in the technical festivals held in IIT and other college such as robo war and stuff. Every now and then few exams and interviews are conducted so that it can be decided what kind of work the person has to do in the core team. Afterall building robots is not the only thing that keeps the show running, different groups are formed to deliver different tasks from programming, designing and controlling the robot.
If I have to talk about my future projects, I won't say I'm coming up with any new topics to build something exquisite ( if we're only talking about robots ) thanks to the semester exams, but if its about normal mini projets, then I guess you always have to keep working on them to get it finished before the deadline. But there's  a college techfest coming soon enough so we'll be make some modifications on our existing robots which are going to be used in some of the events. Some of them include Vise Clutch, Crane and line follower bots.