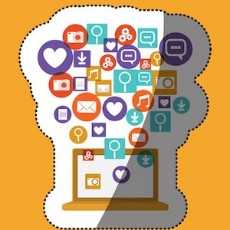 Digital Marketing World
Discuss Digital Marketing tools and techniques and how to rule in the world of SEO, SEM and more!
108 Members
Join this group to post and comment.

Inbound marketing vs. digital marketing: Which is it?
On the surface,the two seem similar: Both occur primarily online,and both focus on creating digital content for people to consume.So what's the difference?
The term "digital marketing" doesn't differentiable between push and pull marketing tactics (or what we might now refer to as 'inbound' and 'outbound' methods).
Both can still fall under the umbrella of digital marketing.
Digital outbound tactics aim to put a marketing message directly in front of as many people as possible in the online space--regardless of whether it's relevant or welcomed.For example,the garish ads you see at the top of many websites try to push a product or promotion onto people who aren't necessarily ready to receive it.
On the other hand,marketers who employ digital inbound tactics use online content to attract their target customers onto their websites by providing assets that are helpful to them.One of the simplest yet most powerful inbound digital marketing assets is a blog,which allows your website to capitalize on the term which your ideal customers are searching  for.
Ultimately, inbound marketing is a methodology that uses digital marketing assets to attract,engage, and delight customer online.Digital marketing,on the other hand,is simply an umbrella term to describe online marketing tactics of any kind,regardless of whether they're considered inbound or outbound.