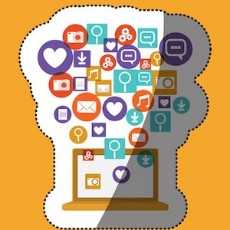 Digital Marketing World
Discuss Digital Marketing tools and techniques and how to rule in the world of SEO, SEM and more!
118 Members
Join this group to post and comment.

How to make your website SEO friendly
ARTICLE NO.- 2
Welcome readers, this post will help to promote your website and make sure you get a higher rank in the Search Engine Results Page (SERP). Before proceeding, please first refer to my previous article mentioned in the comments of post-"What is Search Engine Optimisation" by 'Ali Hamza'. for better understanding.
Sitemap.xml and robot.txt files

Once your website is launched and running, there are two specific things to be done at the earliest.
First is needed to create a 'sitemap.xml' file and put it in your servers. The sitemap file is like a map, which tells the search engine about the various links of your website and what your site structure is. It makes sure that the search engine doesn't miss any of the link or pages of your website.
Second is to have a 'robot.txt' file. This file is responsible for directing the bots/spiders (crawlers of a search engine) to crawl on the desired pages only. For example among all the pages on your website, some contains confidential information which can't be shared with the outside world. So with help of robot.txt file you can stop those pages from being crawled and not get displayed on SERP.


Designing of the website

The website of yours should be understood correctly by the search engine. If there are images on your site then then are needed to be tagged in so that crawlers can understand what the images are about. 
Also your site needs to be keyword optimised, which specifies about the products/services you are selling. So all the headers, titles, description should relate to the core of the website. 
You also need to input Meta tags on your website. It is mentioned inside html's head area. Using the Meta tags, search engine checks whether the keywords used are related to the visible content on the webpages. All these stuffs are very important for the bots/spiders (crawlers of search engine). Most of the work done by a search engine is automated, and unlike humans, crawlers gather information in a specified way as they are programmed. 

Programming your website

Next comes, how much your website is technically sound. The whole task of making your website, SEO friendly, can be divided into two sub tasks for which two teams have to be formed. One is the marketing team which carries out tasks like- promotion, advertisement of websites, link building, etc. The another one is responsible for the technical stuff related to the website such as- programming error free codes, maintenance of websites, no broken links, etc. 
They need to take care that site doesn't take more than to 2 seconds to load as Google's internal benchmark is itself set to half a second. Site should be more functional than decorative.
Moreover site needs to be W3C (World Wide Web Consortium) validated. They have some html standards to which every website needs to qualify.
Also there should be no duplicate pages in your site. Duplicate pages are those webpages which have two URL links. Thus the search engine gets confused as to which link to show on SERP out of the two or many.

Promotion of your website

Promotion of your website is equally important as the programming part. Promotion starts from building site authority over a period of time. This is all about how much authorised your website is. How many people link to your websites or how many people are talking about your website round the world, via social media, news, etc. 
More the mentioning of your site in the websites of others, the more your site will be authorised. It is something which requires time. This depends on how good are your marketing strategies are. For this you have to give a reason to the people to talk about your site. 
Another important thing is to have an interactive feedback system available on your website. This feedback system should be transparent so that it benefits to both, the people and the search engine to gather information and give rank to the website 

It is very important nowadays making your website SEO friendly for online presence. As if you are a digital marketer or digital marketing experts then you must have the information like 90% of the traffic is directly coming from the SERP/Organic Search. So On-page Optimization is the best way for optimizing your website. Here I am sharing top 10 tips through you can create or make a website SEO friendly.
 Make your websites URL user-Friendly: A website developer or as a user you just need to create a URL according to your user behavior.
 Avoid Duplicate Content: Duplicate content always hurts your SEO and It's not the only thing through you can able to optimize but this is also useful or one factor.
Create XML Sitemap: Site map helps search engine to understand the website structure when their bots come into the website for crawling and making your websites online presence.
Mobile Friendly First: As google previously release their algorithm every developer's need to create their own websites mobile friendly. According to the latest survey 80% users now coming from the mobile as the comparison to other devices.
Use Robot.txt: Its good if you create a robot.txt file because it helps the Search engine which URL you want to crawl or which you do not want?
Focus on internal Linking: Internal linking also important while building the page authority. It provides the reader a decent path through they can navigate easily into your accounts.
Optimize your Image: As Search engine now starting to give privilege to those websites which have good infographics or images, So we need to optimize image according to the keyword which we want to rank for a particular page.
The answer to Comments:  Answering our reader's query through comments is also an important part for which we want to rank for.
Avoid Keyword Stuffing: Keyword stuffing is the worst part of SEO in some cases it is possible to rank but some case its effects SEO. So try to avoid doing keyword stuffing the worst ever SEO technique(Certains parameter in which you can rank)
Check for your orphan pages: Crawlers always crawl those pages as well which are connected to those pages on which crawler's that time, So check your orphan pages are they still active or inactive.
Optimizing a single post SEO Friendly:
 Keyword Research
Keywords place Strategically
Meta Tags
Keep your content updated
Enough Content
Use Images Sparingly
Avoid using frames links
Build inbound links